Press release
MP views progress at Dounreay nuclear decommissioning site
Dr Paul Monaghan, MP for Caithness, Sutherland and East Ross, visited Dounreay to look at some of the complex decommissioning work being undertaken at the site.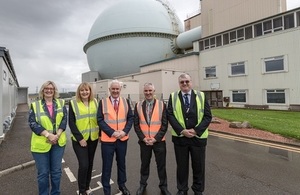 Dounreay is on an ambitious journey to be recognised as the European Reference Site for nuclear decommissioning. Viewed as one of the most complex closure programmes in Europe and, with an ethos of working together as One Dounreay team, the skilled workforce is delivering a varied programme, incorporating construction, demolition and waste management projects. Their mission is to return the site to as near as practicable its original state.
On a visit to the Dounreay site this week, as a guest of the NDA and Dounreay Site Restoration Ltd, Dr Paul Monaghan, MP for Caithness, Sutherland & Easter Ross, said:
I was shown some of the work being undertaken to completely dismantle the reactors at DFR (Dounreay Fast Reactor) and PFR (Prototype Fast Reactor). This is extremely difficult and complex work that must be done with utmost safety and robust security measures.

I was able to see for myself just some of the solutions that are being devised to dismantle these historic plants. The enthusiasm of the workforce and their pride in the important work they are doing was very evident. I'm pleased to see such progress is being made.
Published 27 July 2016