News story
Motorists warned when applying for a driving licence or vehicle tax online
Motorists are warned that when applying online for your driving licence, vehicle tax or to use other motoring services you should always make sure you use the official GOV.UK site.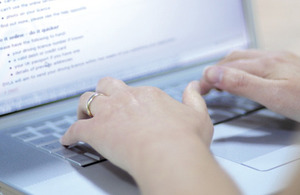 DVLA is aware of problems with third party websites passing themselves off as DVLA, for example to customers who are applying for driving licences. Some sites exaggerate the nature of the services they provide, or deliberately underplay the services that people can get for free or at a lower cost from DVLA. These services are in no way affiliated with DVLA. In particular you may come across these websites in the sponsored links or paid-for results section when using online search engines.
These websites often claim to offer value-added services to ensure your application is correct before you send it to DVLA. However, using this service will mean you can end up paying as much as 3 times the normal price for your driving licence.
Use DVLA's online driving licence or vehicle tax services on GOV.UK
By using the online driving licence or vehicle tax services on GOV.UK, you can be sure that you are dealing directly with DVLA and you will not be charged any additional fees. Your driving licence or vehicle tax application will be completed online without the need for a paper application in the majority of cases.
Report misleading websites
The adverts or sites that they link to, often break the search engine providers' 'Terms and Conditions'. If you come across adverts for misleading websites you can report them. For advice on how to do this read Report a misleading website to search engines.
Published 29 July 2013
Last updated 20 November 2014
+ show all updates
Information added about DfT's actions
Update on the work by GDS to prevent websites making misleading claims.
New Youtube video added.
News article updated to include information on websites that charge an additional fee for vehicle tax
New information regarding the unaffiliated sites
First published.