More than £30 million for communities taking over valued services and assets
Community groups wanting to bid to run local services or buy their local shop, library or pub will benefit from more than £30 million of new…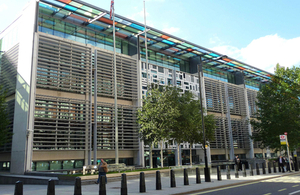 Community groups wanting to bid to run local services or buy their local shop, library or pub will benefit from more than £30 million of new specialist support, Communities Minister Andrew Stunell announced today.
Under the £19 million Community Ownership of Assets programme communities wanting to take control of a much loved local asset will have access to support they need through each stage of the process from forming a group through to preparing and submitting a bid. The programme will also help communities use the Right to Bid when it comes into force this Autumn.
Under the £11.5 million Community Right to Challenge programme - which became law last week - communities with good ideas for how they can run local public services and want to use the Community Right to Challenge, can access advice and support to develop their skills to be able to bid for and run excellent local services.
Around 90 per cent of the funding will go directly to communities in the form of grants allowing them to buy the support they need. In addition to this, funding will support a website and advice service www.mycommunityrights.org.uk (external link) and telephone helpline run by Locality, with the grants programme provided by the Social Investment Business.
Mr Stunell was speaking at Hebden Bridge Town Hall, which has been brought back to the centre of community life following its transfer into community ownership from Calderdale Council. A major new extension to the building - hosting brand new community and enterprise facilities - has just opened through the fundraising efforts of the Hebden Bridge Community Association.
Andrew Stunell said:
We have all heard about much-loved community assets being sold off with out anyone locally having a say, let alone given the time to get a decent plan together. And many groups who felt they could run council services better, by doing things differently, have simply been overlooked.

Taking over assets and running services isn't easy. As well as dedication, groups need skills, support and funding to get projects off the ground. But with the right backing, it's not as daunting as it first seems and communities up and down the country are showing that taking ownership of assets and services can work for the benefit of everyone.

Hebden Bridge Town Hall is testament to that and we want more communities to get a fair hearing and the chance to bid to take control of the buildings or run services that are important to them.
Decentralisation Minister Greg Clark said:
Local people often have great ideas about how to run their communities, but can struggle to have their voices heard.

These powerful new rights will give communities the ability to challenge the status quo, and do things differently to improve the places where they live.

This support will help people to take advantage of the rights available and use them to shape a vision for their neighbourhood.
Steve Wyler, Locality Chief Executive, said:
Locality has believed in and pushed for the new Rights in the Localism Act for many years and is very proud to be running the Community Rights support service. These Rights give greater powers to communities to influence what happens in their local area, avoiding complicated legislation and lengthy negotiations.

These Rights are for everyone who cares about their community, who value their local community centre, shop or pub; want to build new housing or facilities, and run a local service differently and better. Locality is here to give people information, inspiration, ideas and advice from our team of Community Rights experts and to see communities across the UK transformed.
Jonathan Jenkins, Chief Executive of the Social Investment Business said:
The Community Rights grants programme presents a fantastic new opportunity for social ventures to grow through increased revenue, and therefore build their capacity to secure further investment - all with the goal of being able to reach more beneficiaries.
Notes to editors
The new Community Rights give communities opportunities to take ownership and management of important local assets and to shape and run local public services. The Community Right to Challenge - which became law last week - gives communities the right to bid to run local council services where they think they can do it differently and better. The Community Right to Bid - which will become law in the autumn and complements existing asset transfer activity - will give communities the right to bid to buy and take over the running of local assets that are important to them.

These two 3 year funding programmes will run until March 2015. Groups will also be able to apply for grants under the Right to Challenge from 16 July. More details on the grants programme to support community ownership of assets will be available soon.

A Community Rights website has been launched to give groups more information about the new powers and opportunities available to them. The website will continue to grow and expand as more of the Rights come into force. The site can be viewed here: www.mycommunityrights.org.uk (external link).

The telephone advice support can be contacted on: 0845 345 4564.
Some other examples of community groups who have already taken ownership include:
Old Norden Library building, Rochdale - The Norden Community Trust was founded in 2007 by local people determined to preserve the old library building and develop it as a community facility. The Trust has renovated the lower floor as a modern building to be used by the whole community, while a new doctors surgery occupies the refurbished upper floor.
Diss Corn Hall Trust, Diss Norfolk - A group of volunteers set up a charity, the Diss Corn Hall Trust, Diss Norfolk and took over management of the Corn Hall from the Town Council, turning it into a vibrant centre for arts, culture, music and drama in the South Norfolk/North Suffolk area and increasing attendance from 3,500 to 15,000 in just two years. The Diss Corn Hall Trust is bidding for Heritage Lottery funding to regenerate the whole area in which the Corn Hall is located and promote the heritage of the town.
Published 6 July 2012