News story
More than £132 million to improve street lighting in Northamptonshire
Northamptonshire street lighting gets £132 million boost.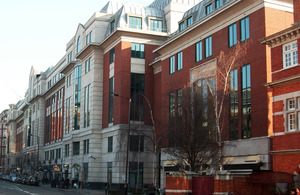 More than £132 million of government funding will be made available to improve street lighting in Northamptonshire, Local and Regional Transport Minister, Norman Baker, announced today (29 July 2011).
The Private Finance Initiative (PFI) funding will allow Northamptonshire County Council to carry out vital improvements and maintenance to their street lighting.
The PFI scheme will fund the maintenance of the street lights for the next 25 years. In the next 5 years the county council will replace about two-thirds of its lighting stock throughout the county with the remaining third of columns having their lamps and electronics changed. A new centrally controlled management system will also be installed which will pick up any faults remotely, removing the need for inspection patrols.
Norman Baker said:
Good street lighting is vitally important in cutting road accidents. Updating lights which are long past their best before date will also reduce energy consumption.

That is why, despite current financial constraints, we have made over £132million available to Northamptonshire for this important scheme.

We will continue to invest in transport infrastructure that improves safety and provides reassurance to local communities.
Today's announcement will allow Northamptonshire to move to the final stages of contractual arrangements. It is expected that work could commence later this year.
Further information
The project includes an initial five year core investment period where the main replacement of lighting stock, traffic signs and street bollards will be undertaken by the service provider with an ongoing 25 year maintenance and repair programme.
The Department for Transport is today granting final approval for this project which in value is worth £132.7 million over the projects 25 year life.
News desk enquiries
Media enquiries 020 7944 3021
Out of hours media enquiries 020 7944 4292
Switchboard 0300 330 3000
Published 29 July 2011