Press release
More tenants take up the Right to Buy
More council tenants are seizing the opportunity to buy their home, Housing Minister Mark Prisk said today (22 August 2013).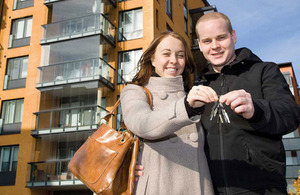 New published figures show a total of 2,149 properties were sold between April and June this year, nearly 5 times the 443 sold during the same period in 2012, and bringing the total number of council homes sold under the reinvigorated Right to Buy to over 8,000.
Mr Prisk said that with discounts increased to a maximum £100,000 in London, and moves to make even more tenants eligible for the Right to Buy, sales should continue to rise over the coming year.
The sales have generated £129 million in gross income, and under the reinvigorated Right to Buy receipts from additional sales will be recycled back into the development of new affordable homes for rent.
These will add to the 150,000 affordable homes that have been delivered in England over the last 3 years, thanks to the success of the government's affordable housing programmes.
Housing market getting stronger
Today's figures confirm that the housing market has turned a corner since the end of the unsustainable housing boom, with the number of first time buyers at its highest level since 2007. Housing supply is also at its highest level since 2008, with developers pledging to use this momentum to increase output and get Britain building again.
Housing Minister Mark Prisk said:
I'm delighted that thousands of council tenants are seizing the opportunity to purchase their home through the reinvigorated Right to Buy. However, many councils still need to do more to bring the scheme to the attention of their eligible tenants. With larger discounts now available for tenants in London, and plans to extend eligibility for the scheme, I expect to see these numbers grow further.

This government is determined to support hardworking people, wherever they are in the housing market. That's why we're helping prospective first time buyers, existing homeowners and social tenants move up the property ladder. We'll also be building thousands of new affordable homes for rent across country, using money from sales under Right to Buy.

Any tenant interested in taking up the Right to Buy should contact their council or visit our website to see what steps they can take towards home ownership.
Today's figures only account for sales of council-owned properties. Thousands of housing association tenants can also take up their preserved Right to Buy, meaning even more people are able to become homeowners through the scheme.
In the future this could also be expanded. Currently tenants need to have lived in their property for at least 5 years, but under planned new legislation this could be reduced to 3 years.
Further information
Tenants interested in the Right to Buy can find out more at www.communities.gov.uk/righttobuy or call 0300 123 0913.

Changes to the eligibility criteria for the Right to Buy are included in the Deregulation Bill, which is currently before Parliament.
Housing confidence rising
Lending to first-time buyers has hit its largest quarterly total since 2007 with 68,200 purchasing their first home in the second quarter of 2013 (CML press release, 12 August 2013). This builds on the 216,200 of first time buyers in 2012, which in itself was the highest since 2007 (CML press release, 12 February 2013).

House building is at its highest rate since 2008 (67,422 new homes were registered in the UK between January 2013 and the end of June; NHBC press release, 26 June 2013).

Over 150,000 affordable homes have been delivered since 2010 to 2011. This is the total gross affordable housing supply for 2010 to 2011 and 2011 to 2012, and the new supply through the Greater London Authority and Homes and Communities Agency for 2012 to 2013. The latter source understates the full increase in affordable housing; full figures for 2012 to 2013 will be available in November.

Housing supply is now at its highest level since 2008 to 2009 with a total of 334,000 new homes built in England over the past 3 years (DCLG, House building in England: April to June 2013, 15 August 2013).

The number of repossessions is at its lowest level for 5 years. There were 33,900 repossessions in 2012, the lowest annual figure since 2007 (CML press release, 14 February 2013). The number of mortgages in arrears is at its lowest since 2008 (CML press release, 8 August 2013).
Published 22 August 2013