More support for star Indian chefs of the future
Communities Secretary Eric Pickles today joined Britain's leading Indian chefs and restaurateurs to launch a new scholarship programme for students…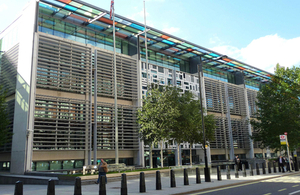 Communities Secretary Eric Pickles today joined Britain's leading Indian chefs and restaurateurs to launch a new scholarship programme for students to develop their careers in 'high-end' Asian cuisine and restaurant management.
Led by the University of West London - one of five Centres of Excellence in Asian and Oriental cuisine - with the backing of the Department for Communities and Local Government and the financial support of Lord Noon, the programme underlines the importance of South Asian cuisine to the British economy and the need to develop highly-skilled British talent in a sector that has depended traditionally on attracting chefs from abroad.
The Department for Communities and local Government has worked with Noon Products Ltd and the University to develop the degree course and in addition to learning advanced cooking techniques and management skills, scholarship students will also undertake work placements at top Asian restaurants. They will also be mentored by some of the country's most talented chefs and restaurateurs including award-winning Atul Kochhar, Vivek Singh and Cyrus Todiwala.
Speaking at the University's award winning London School of Hospitality and Tourism Eric Pickles said:
There was a time when, for most people, Asian cuisine meant a post-pub Friday-night curry. But not anymore. Our high-end Asian restaurants have been instrumental in changing the perception of Indian and Asian cuisine and many have reached for and been awarded Michelin stars, proving the nation's favourite food is just as sophisticated as any other.

This is an industry worth over £3billion to the economy and we are fully committed to supporting British talent, all the way through from our favourite local curry houses and takeaways right up to our world-leading restaurants.

We want to ensure employees have the right skills and that Britain remains one of the best places in the world for our chefs and managers to train. I thank Lord Noon for his generous financial support and look forward to others in the industry joining in to ensure that our young chefs get to the very top of their profession.
It is hoped that the scheme will be expanded to include additional students and further institutions in the future. To achieve this, The Department is also working alongside the newly created Asian Restaurant Skills Board headed by Iqbal Wahhab - founder of London's Cinnamon Club and Roast restaurants. The Board will shortly be writing to potential donors who have a stake in the growth of the sector to seek their financial support for expanding the scholarship scheme.
Professor David Foskett, Head of the University's London School of Hospitality and Tourism, said:
This is a unique and wonderful opportunity for students who are interested in South Asian culinary arts. This initiative from the Secretary of State is warmly welcomed and demonstrates the government's commitment to this important sector of the economy. It also underlines the emerging importance of South Asian cuisine on the global stage and the learning and career opportunities now available to students.
Images
All images are available from the DCLG Flickr channel (external link).
Notes to editors
The University of West London is one of five Centres of Excellence in Asian and Oriental Cuisine set up to help the sector address the wider skills and labour market demand for chefs in Asian and Oriental restaurants and takeaways. The four other centres of Excellence are in existing colleges and universities - located in Leeds, Manchester, Birmingham and central London - will, in collaboration with employers, train people to become chefs within the Asian and Oriental sector. People 1st, the sector skills council for hospitality, is leading the implementation of this programme. This will involve recruiting young people on to a pre-employment training programme, which guarantees them an interview with prospective employers and a paid apprenticeship in Asian and Oriental cuisine. The apprenticeship programme involves four days' work in a catering establishment and one day studying in the college. Successful completion of the apprenticeship will lead to a NVQ Diploma in Professional Cookery. Government funding is available for training apprentices - 100 per cent of training is covered for 16-18 year-olds, 50 per cent of training covered for 19+ year-olds.

The London School of Hospitality and Tourism at the University of West London has been chosen to pilot the 'high-end' scholarship programme because of the high quality of teaching standards, links with industry, and specialist knowledge of culinary arts and south Asian cuisine.

Four 'high-end' scholarships worth £3,750 each have been made possible at the University with the support of the Department for Communities and Local Government and Noon Products Ltd.
Published 15 October 2012