News story
More sporting opportunities for young disabled people
Children's Minister Edward Timpson announces a £300,000 boost to help more young disabled people play sport.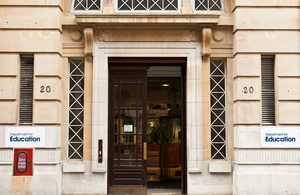 A programme to increase opportunities and aspirations of disabled children in physical education (PE) and sport will be extended, the Department for Education (DfE) announced today.
Children's Minister Edward Timpson announced the Project Ability grant will be extended for a further year at £300,000. The grant aims to increase the participation levels of young disabled people in sport and to increase the expertise of the teachers and professionals around them by funding 49 regional school hubs.
Key achievements paid for by the grant over the last year include:
100 events staged for 1,652 members of the school workforce to improve their inclusive practice and knowledge to engage young disabled people in PE and school sport
more than 60 primary and secondary schools connecting with national disability sport organisations to support young disabled people, parents and carers
inspirational mentoring visits from Olympic and Paralympic role models to more than 1,250 young disabled people
The grant, which has been extended at the same level as last year, will be distributed through the Youth Sport Trust to build on the excellent work already carried out through Project Ability schools.
The announcement comes after the launch of Moving More, Living More, a cross-government strategy to increase participation in physical activity to provide an Olympic and Paralympic legacy for the nation.
Children's Minister Edward Timpson said:
I've seen for myself some of the excellent work that's been done through the Project Ability grant and I'm delighted to announce its extension for a further year. Sport should be open and accessible to everyone - it not only increases physical activity levels but can raise confidence and aspirations and make a real difference to the lives of young people.

I'm proud of this government's continued work to secure the Olympic and Paralympic legacy and I'm determined to ensure all children have the chance to play sport and keep fit at school.
Published 21 March 2014