News story
More seats for Leeds rail commuters
There will be extra train carriages at busy times on the lines from Skipton, Ilkley and Doncaster via Wakefield into Leeds.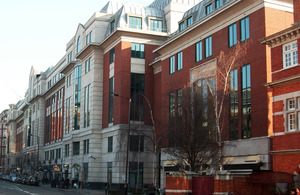 Leeds commuters are to benefit from more than 2,000 extra seats each day after Transport Secretary, Philip Hammond, announced today (13 April 2011) that 20 additional rail carriages are to be deployed on routes serving the city.
The extra carriages will be used to run more trains at busy times - on the lines from Skipton, Ilkley and Doncaster via Wakefield into Leeds - and to lengthen other existing services operated by Northern Rail. They form part of the 650 additional carriages the Government will introduce onto the UK's rail network by 2014.
Philip Hammond said:
Even at a time of severe pressure on public spending we cannot afford not to invest in Britain's future - and that's why we are investing more than £10m in providing these extra carriages for Yorkshire commuters. These extra trains will ease crowding and provide passengers with more comfortable journeys.

The tough decisions the government has taken on rail fares allow us to continue to deliver this sort of much needed improvement to the railways. We are investing in 2,100 extra carriages to increase capacity across the rail network and in the longer term we have plans for a high speed rail network which will ease overcrowding and make our railways fit for the 21st century.
The extra carriages are planned to enter service from December 2011. The government is continuing discussions with Northern Rail on adding more carriages to the region's train services.
The extra carriages will allow a total of six additional trains per day operating on the Leeds - Skipton, Leeds - Ilkley and Leeds - Doncaster routes. In addition, 3 morning peak trains will be lengthened on the Leeds - Manchester Victoria and Bradford Forster Square - Leeds routes.
In total, for both Leeds and Manchester, the additional carriages are planned to provide seating and standing capacity for an extra 3,173 passengers every day - 1,907 during the AM three-hour peak and 1,266 during the PM 3-hour peak.
The £10 million investment covers the net cost of additional passenger services for the period from April 2011 to the Northern Rail franchise end date 15 September 2013.
News desk enquiries
Media enquiries 020 7944 3021
Out of hours media enquiries 020 7944 4292
Switchboard 0300 330 3000
Published 13 April 2011