Press release
More protection for whistleblowers announced
The government today announced that the protections available to whistleblowers are to be strengthened further.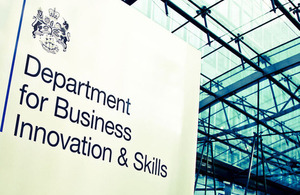 The government today announced that the protections available to whistleblowers are to be strengthened further.
The proposed amendment to the Enterprise and Regulatory Reform Bill will mean that individuals, who make the difficult decision to blow the whistle against their employer, will have protection from instances of bullying or harassment that may come from their co-workers. The current law only offers workers with protection from harassment or bullying by their employer.
This protection, known as "vicarious liability", mirrors provisions which already exist in equality legislation.
The amendment will:
introduce a provision which treats detrimental acts of one co-worker towards another who has blown the whistle, as being done by the employer and therefore makes the employer responsible; and

provide a defence for an employer who is able to show that they took all reasonable steps to prevent the detrimental treatment of a whistleblower by co-workers Employment Relations Minister Jo Swinson said,
The protection offered by whistleblowing legislation is strong but there are always ways to improve it. This amendment takes into account recent events and will place whistleblowers, who are making a difficult decision, in a better position. They will now have a specific employment protection in place and be able to have the full force of a tribunal behind them if they suffer any detriment, bullying or harassment from a co-worker.
The change will not impact on good employers who see that it as their responsibility to make sure their staff have a good working environment.
Note to editors:
1.The Enterprise and Regulatory Reform Bill aims to boost consumer and business confidence to encourage long term growth, and cut the cost of doing business by simplifying regulation. Its measures include setting the purpose of the UK Green Investment Bank, improving the employment tribunal system, and establishing a new Competition and Markets Authority as well as provisions on directors' pay, equalities and health and safety. The Bill has completed its passage through the House of Commons and has been considered by Grand Committee in the House of Lords. It will start House of Lords' Report stage on 26 February.
2.The government's economic policy objective is to achieve 'strong, sustainable and balanced growth that is more evenly shared across the country and between industries'. It set four ambitions in the 'Plan for Growth' (PDF 1.7MB), published at Budget 2011:
To create the most competitive tax system in the G20
To make the UK the best place in Europe to start, finance and grow a business
To encourage investment and exports as a route to a more balanced economy
To create a more educated workforce that is the most flexible in Europe.
Work is underway across government to achieve these ambitions, including progress on more than 250 measures as part of the Growth Review. Developing an Industrial Strategy gives new impetus to this work by providing businesses, investors and the public with more clarity about the long-term direction in which the government wants the economy to travel.
Published 21 February 2013