More new powers for councils to bust barriers
Decentralisation Minister Greg Clark has today unveiled new powers for councils to hold Government to account and make sure requests from their…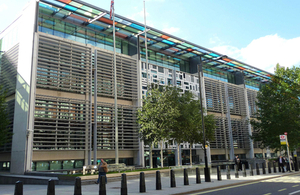 Decentralisation Minister Greg Clark has today unveiled new powers for councils to hold Government to account and make sure requests from their local communities to remove unnecessary regulations are properly considered.
In plans for new measures under the Sustainable Communities Act, Mr Clark has set out a new simple process by which councils can directly ask Whitehall to remove barriers that can block local people from improving their communities. Previously, councils had to jump through hoops and stick to rigid timetables before any barriers were taken seriously. The new process is direct and straightforward - saving council officials precious time and the taxpayer thousands of pounds in administrative costs.
Last year, Mr Clark set out an 'action plan' to respond to proposals already submitted under the Act. He also said that the Government was "open for business" to bust barriers, and that councils could submit requests as soon as they come to light, without having to navigate deadlines or wait for bottlenecks to clear. Because the timetable will be rolling, proposals can be considered more quickly.
The changes have also increased transparency as councils are now able to discuss their proposals directly with Whitehall. Everyone can see the progress being made online, as well as reasons for the Government's decision on whether to implement suggestions. Today's announcement means the Local Government Association will have the power to challenge a decision if a particular council isn't happy with an outcome. Where there is a challenge, the Government will have to consult the Local Government Association before issuing the final decision.
The new system enables councils to submit ideas via a dedicated 'barrier busting' website and follow the progress of their suggestions online. People who use the service barrierbusting.communities.gov.uk (external link) are given a unique Amazon-style tracking number to monitor requests and a named 'barrier buster' assigned to each case.
Greg Clark said:
I've been hugely inspired by the Sustainable Communities Act. Its ethos - giving local taxpayers a bigger say in how their money is spent, and helping councils challenge central government to cut red tape - is absolutely in line with what we're seeking to do in the Localism Bill.

I want to turbo-charge the Sustainable Communities Act. We're getting rid of the bureaucracy so that it's easier than ever for people with bright ideas for improving local life to ask for central government's assistance.

Our barrier busting website is open for business, ready and waiting to sweep away the obstacles and help local people do things their way.
A spokesman for Local Works commented:
Both Local Works and the Sustainable Communities Act are based on the fundamental principle that local people are experts in finding their own local solutions to their own local problems. The Act remains one of the few genuine bottom up processes which allow communities to have greater control over things that affect their everyday lives.

We are glad the Government have recognised this and we urge local councils and communities to use this new process to deliver real change from their communities.
The Local Government Association, the 'selector' under the Sustainable Communities Act, will enjoy more flexibility and fewer burdens than before. There will be a larger role for representatives from local and parish councils, and community groups - allowing a wider range of people to voice their opinions on the most severe barriers to localism.
Barriers to community action that have already been identified include:
Criminal Records Bureau checks on volunteering

rules that prevent welfare claimants from taking part-time jobs or longer work placements

competition laws that prevent businesses from collaborating on sector-wide initiatives

health and safety regulations

public liability insurance and catering licences running stalls at events.
Some of the proposals taken forward under the Sustainable Communities Act previously are:
Poole asked for a reduction in ringfencing of local government grants. The Comprehensive Spending Review created significant new local discretion in finances.
Wirral wanted it to be easier for local communities to take control of assets. Measures in the Localism Bill are designed to achieve this.
Notes to editors
1. The consultation can be found at www.communities.gov.uk/publications/localgovernment/scaconsultation2011. The deadline for responses is 20 June 2011.
2. The new online portal at barrierbusting.communities.gov.uk (external link) is open to anyone who wishes to ask the Government to remove a barrier that is stopping local action.
3. Mr Clark has previously set out an 'action plan' for proposals already submitted under the Sustainable Communities Act and set out flexible working arrangements for communities and councils, to make the system less bureaucratic. The previous announcement can be seen here: www.communities.gov.uk/news/newsroom/1799233.
4. The consultation asks for views on new regulations to govern the arrangements following the second invitation under the Sustainable Communities Act, issued on 15 December 2010. Under the previous invitation, issued in October 2008, local authorities were required to set up special Panels of Representatives of Local People, which had to include those from under-represented backgrounds. They had to submit proposals to the Local Government Association by the end of July 2009. The Local Government Association were required to shortlist proposals, accompanied by a report. On receipt of the short-list, in late December 2009, the Secretary of State was required to consult the Local Government Association and try to reach agreement on all the proposals contained within. This process meant no formal decisions could be made until 15 December 2010.
5. The light-touch regulations proposed in the consultation will place duties on the Secretary of State to:
consider a request by the selector to take action to remove a bureaucratic barrier, which the Secretary of State has previously decided not to implement
consult and try to reach agreement with the selector before deciding whether the request should be implemented in whole or in part
publish the decision, with reasons
state any action to be taken with a view to implementing the proposal; and
publish an update on that action, should it not be complete within one year.
6. The regulations will also allow the selector, the Local Government Association, to appoint an advisory panel to assist it in its duties.
7. In November 2006 the Sustainable Communities Bill was introduced to Parliament as a Private Members Bill. Local Works, a project of Unlock Democracy is a coalition of over 100 national organisations which successfully delivered the bill  through Parliament and now campaigns to promote the use of the Sustainable Communities Act.
Twitter
Keep up to date with the Department by following us on Twitter (external link).
Media enquiries
Visit our newsroom contacts page for media enquiry contact details.
Published 29 March 2011