More jobs to help tackle crime in the Caribbean
The UK will create jobs, boost business and support the crack down on crime in the Caribbean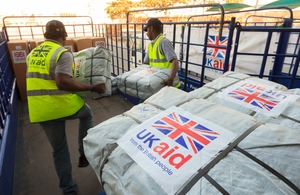 The British Government will create jobs, boost business and support the crack down on crime in the Caribbean through two major projects launched this week.
The new programmes were announced by Development Minister Alan Duncan during a three day visit to the region that concludes today. They will include:
• A project to help deliver more services and jobs
The UK will provide further funding for the Citizen Security and Justice Programme over the next three years which will deliver basic state services, vocational training and more job opportunities to 50 of Jamaica's most violent, marginalised inner city communities.
• A scheme to help boost innovative businesses
Through its support of COMPETE Caribbean, the UK will help provide grants to firms that seek to develop innovative products and services for export, helping to create more jobs and build a stronger economy.
Mr Duncan visited Trench Town in Kingston, Jamaica - an area known as the home of reggae music but often characterised by gang culture and violence. While there he met community members involved in the Citizen Security and Justice Programme, which has already rolled out vocational training and adult education in the neighbourhood.
Alan Duncan said:
A tough economic climate combined with high levels of violent crime are among the Caribbean's biggest challenges and to help tackle this we are significantly increasing the resources that we will allocate to the region.

We will make sure our support to the Caribbean yields clear results and provides strong value for money in each of our priority areas: wealth creation, governance, security and climate change.
In reaffirming the UK's commitment to the Caribbean, Mr Duncan also highlighted the UK's continued support for trade and regional integration through the CARTFund project. This project aims to get access to European markets for Caribbean businesses.
In February this year, Secretary of State for International Development Andrew Mitchell announced the allocation of £75 million for the Caribbean, as part of the review of UK aid. Find out more about our projects in the Where we work section.
Published 13 October 2011