Press release
More important than ever that talks result in agreement
As the talks close for the week, the Secretary of State says the chance to devolve corporation tax in this Parliament should not be let slip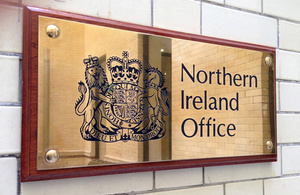 Theresa Villiers said:
We've now concluded the 8th week of talks, which saw a very significant development with the Chancellor committing to legislate to devolve corporation tax rate-setting powers, if the parties can agree a credible course to put Executive finances on a sustainable footing.
This is very good news for Northern Ireland and it makes it more important than ever that these talks result in an agreement. The clock is ticking. If we are going to get legislation through before the general election, it needs to be introduced into Parliament in the next couple of weeks. We should not let this chance slip through our fingers.
Over the past week there has been encouraging input by all participants, but there still remains much to be done. I recognise that we are working through some extremely sensitive issues, but it is imperative that all the parties continue to engage positively in the interests of bringing about stable and effective government for all in Northern Ireland.
Published 5 December 2014