More Government support pledged to help young people escape benefits
A new programme for young people who have never had a job or little recent work experience to help them escape a life on benefit.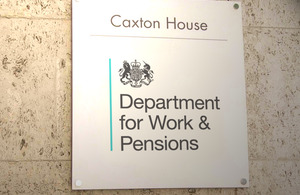 Young people who have never had a job or little recent work experience will take part in a new programme to help them escape a life on benefits, Minister for Employment Mark Hoban announced today.
The new trailblazer, designed and run by Jobcentre Plus in Derbyshire, will help around 2,000 18 to 24 year olds in the district gain the experience and skills they need to find their first job.
Those 18-24 year olds who have been on Jobseekers Allowance for more than six months, yet have gained little or no recent work experience - something that is seen as vital in today's job market - will have to take part in the eight week programme. They will be expected to do 30 hours of work for the benefit of their communities and will also receive six hours of intensive job seeking support per week.
The scheme will be mandatory, so anyone refusing to take part without good reason will face losing their benefits.** **
There are jobs out there: Jobcentre Plus in Derbyshire took over 62,800 vacancies over the past 12 months.
Andrew Thomas district manager of Derbyshire Jobcentre Plus said:
Right now it's a tough labour market out there and we want to make sure that the young people we work with have the best chance of succeeding.

Our trailblazer will help people develop good working habits, such as turning up to work on time, as well as the right training and experience - something that employers have told us they're crying out for.
Minister for Employment, Mark Hoban said:
It's unacceptable that in the past many young people who didn't have the necessary skills or experience they needed to get into work were stuck on benefits.

We're changing that and making sure that we give young jobseekers the support they need early on, when it can really make a difference to their job prospects.
At the end of the eight weeks it is expected that the jobseekers will be in a better position to come off benefits and get into work. Those jobseekers who don't complete the eight week programme will have to go back on the programme If they return to Jobseekers Allowance within 26 weeks.
The programme is funded by Jobcentre Plus and will be delivered by TGB Learning who will be working to the 'payment by results model' the Government has now introduced.
Note to Editors:
We are not specifying what work placements the young people should do. However we expect that every work placement will be of benefit to the local community, and will offer young people the opportunity to gain both fundamental work skills and a deeper understanding of work expectations.
TBG Learning is part of the Rehab Group, an independent, not-for-profit organisation that provides training, employment, health and social care and commercial services to people in Ireland, England, Wales, Scotland, the Netherlands and Poland. Rehab is a charity registered in the UK with the Charity Commission.
Published 12 November 2012