Press release
More digital services to benefit motorists
Roads Minister Stephen Hammond announces consultation proposing more digital services for motorists to update their vehicle record.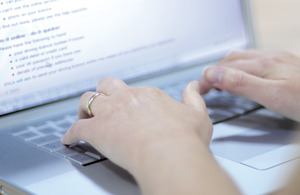 Millions of motorists will be able to go online to update their vehicle record under proposals published for consultation today by Roads Minister Stephen Hammond.
The red tape cutting plans will mean motorists can go online to update change of keeper and address details. Motor dealers will also be able to update changes on behalf of customers. Currently motorists and motor dealers have to write to DVLA.
Roads Minister Stephen Hammond said:
The government is committed to cutting red tape and getting rid of unnecessary, burdensome and overcomplicated regulation.

It is right that in this digital age motorists and the motor industry should be able to go online to tell DVLA if there have been changes to a vehicle record. These proposals will make it easier and cheaper than ever to do that.
Paul Everitt, SMMT Chief Executive said:
SMMT supports initiatives that make car ownership easier for motorists and reduce the administrative burden on manufacturer approved dealers.

The proposed measures would allow swift, efficient and secure updating of vehicle records avoiding postal delays and enhancing the accuracy of information held by DVLA.
The consultation starts today (1 October 2012) and closes on 12 November 2012.
Notes to editors
The vehicle register held at the Driver and Vehicle Licensing Agency (DVLA) records the details of vehicles and their registered keepers. The registered keeper of a vehicle is the person responsible for using, keeping and taxing a vehicle. Once a vehicle is registered, a Vehicle Registration Certificate (V5C) is issued to the registered keeper.
The V5C contains vehicle information as well as the name and address of the registered keeper. Keepers are legally obliged to notify the DVLA if any of the details on the V5C change. The only method currently available to motorists to notify such changes is a paper process that involves posting the current V5C to the DVLA. The DVLA then records the changes and issues a new V5C.
The DVLA wants to build on the success of the online services it already offers motorists with more than half of all motorists using the online channel to tax their vehicle or tell DVLA it's off the road. In addition, around two million driver licence applications are completed online each year, with a further 260,000 online sales to the public who buy the right to have a particular registration number assigned to a vehicle. In addition, almost 94% of new vehicles are registered online by motor dealers through the Automated First Registration and Licensing (AFRL) system.
Press office
DVLA Press Office
Longview Road
Morriston
Swansea
SA6 7JL
Email press.office@dvla.gsi.gov.uk
Telephone (only for use by journalists and the media): 0300 123 0791
Telephone (out of office hours – only for use by journalists and the media): 0300 123 2407
Published 1 October 2012