Moore hails landmark trade deal boost for Scottish businesses
The combination of a landmark free trade agreement (FTA) with Singapore and the benefits offered by the UK's diplomatic, consular and …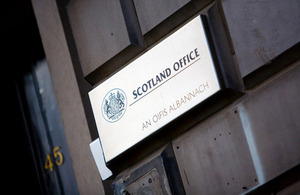 The combination of a landmark free trade agreement (FTA) with Singapore and the benefits offered by the UK's diplomatic, consular and trade networks will provide Scottish businesses with a platform to expand into Southeast Asia, the Secretary of State for Scotland has said today.
On Sunday, EU Trade Commissioner Karel De Gucht and Singapore's Minister of Trade and Industry Lim Hng Kiang, completed final negotiations on a FTA between the European Union (EU) and Singapore.  This is the second agreement with a key Asian trading partner, after the EU-Korea FTA, which has been in operation since July 2011.
Approximately 40 Scottish companies have operations in Singapore with another 200 being involved in joint ventures.  It is one of the largest export markets for Scotland outside of Europe with some £245m worth of goods exported there each year.  A number of Singapore's key business sectors for development such as financial services, life sciences, marine and offshore engineering are areas in which Scotland has significant expertise.
The UK is one of only three European countries to have an Embassy in every one of the 10 nations of the Association of Southeast Asian Nations (ASEAN) of which Singapore is a member.  UK Trade and Investment with 162 offices in 96 countries also has a significant footprint in Southeast Asia.
The Secretary of State said:
"This free trade agreement is excellent news for Scotland.  There are already significant economic benefits being made by Scottish businesses in Singapore and this agreement will only encourage further gains to be made.  Scotland's businesses benefit from the UK's diplomatic, consular and trade networks across the world and this will provide a platform for Scottish companies to expand their operations into Southeast Asia".
Published 18 December 2012