Take a moonlight tour of the Government Art Collection's building.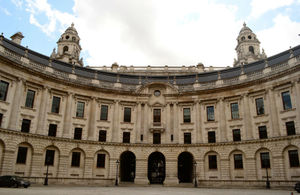 (This event has now concluded. This article is presented as part of the news archive.)
On Friday 14 and Saturday 15 May, the Government Art Collection invites you to a moonlight-themed tour of the Collection's building, off Tottenham Court Road, in Central London as part of Museums at Night.
Visitors will be led through the workshop and racking area, where works linked with the night by artists such as Abraham Pether, Fay Godwin and Roland Pitchforth will be on display.
After the tour you will have the opportunity to relax in their viewing space, help yourself to lemonade and popcorn and watch video art work by contemporary artists such as Rachel Lowe, Simon Faithfull and Wood & Harrison.
Visitors will be admitted at 6.30, 7.30, 8.30 or 9.30pm on each day and each event will last one hour.
Booking is essential.  To book or for more information call 020 7580 9120 or email gac@culture.gov.uk.
You can find out more about Museums at Night at the Culture 24 website.
Published 18 July 2012