News story
Monitor team visit Warwickshire hospitals
Senior figures from the health sector regulator Monitor visited Warwick and Stratford Hospitals on Monday to meet with staff and patients.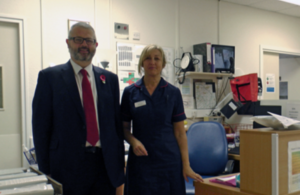 Adrian Masters, Managing Director for Monitor and Sigurd Reinton, a non-executive director, spent the day getting a first hand understanding of some of the issues faced by South Warwickshire NHS Foundation Trust.
This included visits to the Central England Rehabilitation Unit in Leamington Spa - a national centre of excellence for rehabilitation following serious neurological injuries - and to a community hospital in Stratford.
The Monitor staff also met with local commissioners and trust management to discuss their approach to the commissioning of services locally - including community services.
Adrian Masters, Managing Director of Pricing and Sector Development at Monitor said:
It was fantastic to go out and meet staff and patients at hospitals around Warwickshire.

I was particularly interested in they way the trust has improved care for older patients with complex needs by ensuring they are being cared for in the most appropriate setting, whether at home, in a community hospital, in a care home, or in the acute hospital in Warwick.
Published 31 October 2014