Monitor takes urgent steps to improve troubled NHS foundation trust
Monitor is taking urgent steps to strengthen the leadership of Medway NHS Foundation Trust so it can deliver improvements for patients.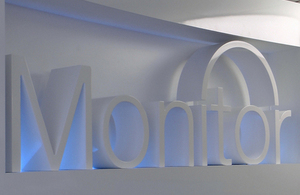 The health regulator has used its powers to make Medway NHS Foundation Trust appoint a new Chairman and Chief Executive, ensuring that it has the right leadership in place to address the wide range of significant problems it faces.
Monitor announced today that Christopher Langley has been appointed interim Chairman and Nigel Beverley joins the trust as interim Chief Executive. Both appointees have a wealth of NHS and management experience.
It is also taking action to make sure that the new executive team strengthens operational leadership and reviews the trust's strategic prospects over the next 5-year planning period.
Stephen Hay, Managing Director of Provider Regulation at Monitor, said:
Medway is one of the most challenged trusts in the country and we believe that a change in leadership is essential for the trust to tackle the difficult issues that it faces.

I am disappointed with the way this trust has been managed by its previous leaders, so we have acted quickly to ensure the right people are brought in to deliver immediate improvements at this troubled trust.
The trust was placed in special measures in July 2013 following a review by Sir Bruce Keogh that highlighted concerns about the quality of care.
This followed earlier regulatory action taken by Monitor as a result of the trust's poor financial performance.
The trust has made progress on some of the issues highlighted by the Keogh Review but Monitor has taken further regulatory action because of concerns over the trust's accident and emergency performance, its deteriorating financial position, and its capacity to address the range of issues it faces.
Colin Wilby, Senior Independent Director at the trust, said:
The board welcomes Nigel Beverley and Christopher Langley to Medway NHS Foundation Trust and looks forward to working constructively with them to bring about the improvements in performance that we all want to see for our patients and staff.
Published 6 February 2014