News story
Monitor Chairman visits hospitals in Northumberland and North Tyneside
Baroness Joan Hanham CBE, Chairman of the health sector regulator Monitor, recently visited Northumbria Healthcare NHS Foundation Trust to see how an NHS organisation is developing services for the benefit of patients.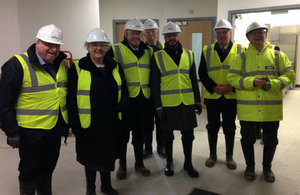 Baroness Hanham met clinical staff and board members of the trust on Wednesday 14 January. They discussed how the trust:
recently bought out the PFI contract for Hexham General Hospital to free up money to invest in patient care
leads on integrating health and social care in Northumberland and North Tyneside
makes a wider contribution to the local community
Baroness Hanham also viewed the construction site of the Northumbria Specialist Emergency Care Hospital at Cramlington. When it opens in June 2015 this will be the first purpose-built hospital of its kind in England dedicated to providing emergency care with A&E consultants working on site 24 hours a day, 7 days a week.
Baroness Hanham also toured of one of the trust's hospitals, North Tyneside General Hospital in North Shields, meeting staff and learning about the day-to-day workings of the hospital.
Baroness Hanham said:
It is important for me to see at first hand how foundation trusts are using their freedoms to innovate for the benefit of patients. The development of a new specialist emergency care hospital is a wonderful example of this.

Talking to staff and listening to their plans for delivering care for patients was enlightening and I am very grateful to them for taking the time to brief me.
Published 20 January 2015