Mona Siddiqui on life in the UK
In a short film launched today, the Pakistan-born academic talks about her experiences living in Britain, and discusses the many opportunities available.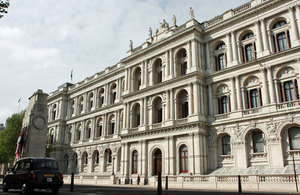 The film is one in a series featuring individuals from home and abroad talking about their experiences of modern Britain in the run up to the London 2012 Olympic and Paralympic Games.
Born in Pakistan, Mona Siddiqui is Professor of Islamic Studies and Public Understanding at the University of Glasgow, and the founder and Director of the Centre of Study for Islam. In her short film, she talks about life in the UK, and the opportunities available to people living in Britain. Watch the film below.
Mona came to the UK from Pakistan when she was five years old, and grew up in Huddersfield. After taking her BA in Arabic and French at the University of Leeds, she went on to do an MA in Middle-Eastern Studies and a PhD in Classical Islamic Law at the University of Manchester. She now lives in Glasgow with her family.
In the film, Mona describes her life in Glasgow, surrounded by hills, and very peaceful. She discusses immigration to Britain in the 1960s and 1970s, and the 'laissez-faire' nature of British people, who let everyone live the 'kind of life they want'.
Mona believes that people who migrate to Britain may fear that they will need to sacrifice their identity, but says, "I don't think there's any expectation at all that people give up their faith. We have over two million Muslims living in the UK. I think most of them are very happy to be living here".Mona values the freedom that she has been granted through the academic environment in Britain, and is positive about the way in which UK society allows people to reach for opportunities, choose their own goals, and achieve them.
In 2007, Mona published 'How to Read the Qur'an', and she has also published several articles and chapters on classical Islamic Law and Christian-Muslim issues. She offers advice in legal cases, and also provides consultancy work to educational institutions and local government.
Mona is well-known in the UK for her broadcasting work, with regular appearances on radio and in the press. In addition, she has sat on various Advisory Boards for organisations such as Glasgow's Gallery for Modern Art, Scottish Asian Arts, the IB Tauris Religious Studies project and the Journal of the American Academy of Religion.
She is currently the chair of the BBC's Scottish Religious Advisory Committee and a member of the Commission on Scottish Devolution and the World Economic Forum's Global Agenda Council on the Islam-West Dialogue. She holds three honorary doctorates and is Visiting Professor at several educational institutions worldwide. Mona is a fellow of the Royal Society of Edinburgh and the Royal Society of Arts. In June 2011, she was awarded an OBE for her contribution to interfaith relations.
Published 25 November 2011