Press release
Modernising commissioning green paper published
New green paper published on creating a level playing field for charities and social enterprises bidding for public service contracts.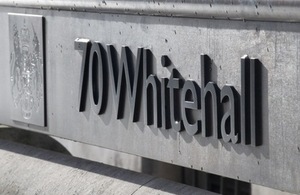 Minister for Civil Society Nick Hurd has today (7 December 2010) published a green paper which asks for views on how the government can create a level playing field for charities, voluntary groups and social enterprises bidding for public service contracts. 
Welcoming the publication, Mr Hurd said:
Public services must make better use of taxpayers' money. We need smarter commissioning processes that take into account the social and environmental impact of organisations awarded contracts.

Good performance in these areas can take pressure off other public services and so create efficiencies across the board. This is part of a Big Society approach that will form the core of the Public Service Reform white paper next year.
The green paper seeks views on 4 key questions and outlines the government's current plans for discussion:
In which public service areas could government create new opportunities for civil society organisations to deliver?
Introducing payment by results - so payment is linked to outcomes not inputs
Setting proportions of specific services that should be delivered by independent organisations
Introducing new rights for communities to run services
2. How could government make existing public service markets more accessible to civil society organisations?
cut away unnecessary red tape by streamlining procurement processes
improve transparency of public procurement opportunities
address ways to manage the short term movement towards large centralised contracts and move to a decentralised approach in the longer term
launch a contract finder service, a free facility for small organisations to find procurement and sub-contracting opportunities all in one place
3. How could commissioners use assessments of full social, environmental and economic value to inform their commissioning decisions?
encourage understanding of social and environmental priorities of local people to be considered in the commissioning process
support the 'Social Enterprise and Social Value' Bill which would require the recognition of 'full value' as part of mainstream commissioning practice
4. How could civil society organisations support greater citizen and community involvement in all stages of commissioning?
develop a new package of support to enable local civil society organisations and state partners strengthen working relationships
extend the planned 'right to challenge' to public services
roll out 'community budgets' which pool funding for local services giving more flexibility to meet local priorities and a joined up approach across the board
The green paper follows the commitment in the coalition agreement to develop new opportunities for civil society organisations in public service delivery.
The consultation will close on 5 January 2011 and the results will feed into a Public Service Reform white paper to be published shortly afterwards.
Published 7 December 2010