News story
Modern Industrial Strategy to boost business support for Scotland
A review of how UK and Scottish Government agencies can better collaborate to support business in Scotland is to be announced today [Monday 27 November]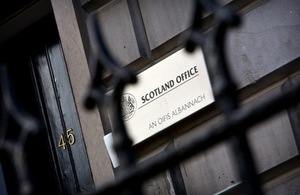 UK Business Secretary Greg Clark will announce the review as part of the UK Government's ambitious modern Industrial Strategy, which will drive growth across Scotland, boosting skills and improving productivity and infrastructure.
The review of business support, to be conducted in partnership with the Scottish Government, will improve both the consistency and impact of government support to businesses in Scotland, including helping Scottish business access UK supply chain contracts.
Today's Industrial Strategy white paper sets out a long-term vision for how Britain can build on its economic strengths, address its productivity performance, embrace technological change and boast the earning power of people across the UK.
The White Paper follows extensive engagement by Government with industry, academia and business bodies who submitted almost 2,000 responses to the Green Paper consultation earlier in 2017.
The White Paper focuses on the five foundations of productivity – ideas, people, infrastructure, business environment and places – with a clear and complementary vision for each.
Visiting Glencairn Crystal Studio Ltd in East Kilbride to mark the launch of the Industrial Strategy, Scottish Secretary David Mundell said:
Scotland has a world-renowned reputation for industrial success and innovation, and today's Industrial Strategy will build on that. It will mean that Scottish businesses can continue to grow and thrive.

We know that some businesses can struggle to get the support they need to grow their businesses effectively, and the current system of support can be inconsistent across the country. The review we are announcing today will ensure Scottish businesses get a more coherent, effective system of support.
UK Government Business Secretary Greg Clark said:
The birthplace of Alexander Graham Bell and Sir Alexander Fleming, Scotland has always made a vital contribution to the UK's society and its economy. The Government's new Industrial Strategy is designed to build on Scotland's economic strengths within the UK as a whole, creating more opportunities, boosting earning power and increasing our productivity.

Scotland has huge economic strengths, including in financial services, life sciences, higher education and research, quantum technologies and advanced manufacturing. We believe that a really effective Industrial Strategy should build on those capabilities, and help create new ones.

Our Industrial Strategy white paper provides us with a landmark opportunity for the UK to make fresh choices about how its economy develops.
In the Strategy, the government has identified four Grand Challenges; global trends that will shape our rapidly changing future and which the UK must embrace to ensure we harness all the opportunities they bring. The four are:
artificial intelligence – we will put the UK at the forefront of the artificial intelligence and data revolution.
clean growth – we will maximise the advantages for UK industry from the global shift to clean growth.
ageing society – we will harness the power of innovation to help meet the needs of an ageing society.
future of mobility – we will become a world leader in the way people, goods and services move.
Each Grand Challenge represents an open invitation to business, academia and civil society to work and engage with the government to innovate, develop new technologies and ensure the UK seizes these global opportunities.
To deliver the Strategy, the UK Government has committed to working closely with the Scottish Government and other devolved administrations to improve productivity and drive prosperity.
Notes to editors:
For further information contact the press office on 0131 244 9028.
Founded in 1981, Glencairn Crystal Studio has an international reputation for fine bespoke crystal and glassware and is the largest supplier of crystal to the Scottish Whisky industry in the UK and Ireland, as well as supplying products to over 60 countries
Scotland Office Minister Lord Duncan will also be visiting M Squared in Glasgow on Monday. A leading force in the laser and photonics sector has seen consistent year-on-year growth since the BGF (Business Growth Fund) initial investment of £3.85m in 2012, more than doubling its revenues every two years since then.
Published 27 November 2017