MOD supports 'Get Safe Online Week'
The MOD is backing 'Get Safe Online Week' in a bid to encourage both civilian and Service personnel to guard their personal information when using social media channels.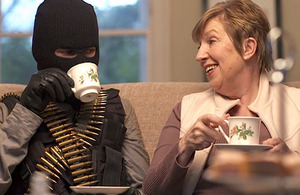 A new document has been released by the Department in support of the campaign, providing guidance for staff on communicating using social media sites like Twitter, Facebook and YouTube so they don't do or say things that bring themselves and their Service into disrepute.
As part of the awareness week, the MOD is rerunning videos from last year's 'Think Before You…' campaign on our social media channels. 'Think Before You…' is a reminder that personal and operational security should be a primary concern and that social media merely provides a different context where sensitive details can be found.
The Chief of the Defence Staff's (CDS's) Strategic Communications Officer said:
Social media has enabled our personnel to stay in touch with their families and their friends no matter where they are in the world. We want our men and women to embrace the use of sites like Twitter, Facebook, LinkedIn and YouTube, but also want them to be aware of the risks that sharing too much information may pose.
You don't always know who else is watching in cyberspace.
The MOD Headquarters has its own Facebook, YouTube and Twitter feeds and we see no reason to stop our personnel from tweeting or posting on their own walls. But the MOD has a responsibility to warn personnel of the risks they could be exposing themselves to, hence the launch of this new campaign.
CDS's Strategic Communications Officer added:
We do not want to scare Service personnel, families and veterans and we certainly do not want them to stop using social media. We are not here to gag people because we acknowledge the ubiquity and significant benefits that social media offers to people and the MOD.
I am a big fan of Facebook and Twitter and I use them on a regular basis. These channels are vital to communicating in a digital age.
Risks to Service personnel - and potentially their families - include posting details and locations of troop movements and operational events, locations and travel details of ships or aircraft, and people's home addresses. If inadvertently released, information such as this could give the UK's enemies the upper hand.
'Get Safe Online Week' runs from 22 to 26 October 2012.
Related links
Video: Personal Security Online 1 (Full)
Video: Personal Security Online 2 (Teaser)
Published 22 October 2012