MOD signs contract for new armoured vehicle
The MOD has signed a £500m contract for the demonstration phase of seven prototype Scout armoured fighting vehicles for the Army.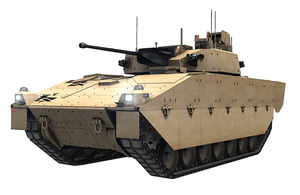 The powerful, sophisticated Scout vehicle will provide improved protection against a wide range of threats and bring greater firepower, improved situational awareness, more protection and enhanced mobility.
It will carry three crew members and have mounted both a new type of 40mm cannon and a machine gun. It will replace the Scimitar armoured fighting vehicle.
Minister for Defence Equipment, Support and Technology, Peter Luff, who signed the contract, said:
Military commanders have stressed the importance of having a wide range of vehicles from which they can select the most appropriate for specific tasks.

This contract is a major step towards providing an additional fleet of combat vehicles, capable of undertaking operations in the most demanding terrain and fully incorporating lessons from current conflicts.
Work on this phase of the programme will go ahead alongside the wider Strategic Defence and Security Review which will make sure that the capabilities that we are investing in are those best placed to provide the security we need for the future.
The design is derived from modifying the ASCOD SV vehicle, which is already in service with some NATO nations, is well-proven and is suitable for export sales.
Work will continue alongside this programme to update existing armoured reconnaissance vehicles in service in Afghanistan, such as the Scimitar, to maintain their operational capabilities.
The Chief of Defence Materiel, General Sir Kevin O'Donoghue, said:
Today's announcement is the result of months of hard work by a wide range of stakeholders across MOD and General Dynamics UK enabling us to reach this point, ahead of the original plan.
The work that has been done has been, and continues to be, subject to the most careful scrutiny to ensure the decision is the right one for the long-term needs of the Army.
Master-General of the Ordnance, Major General Bill Moore, said:
This is a very good moment for the Army. Scout will provide a much better capability to find and track the enemy, so necessary for the successful prosecution of operations in the 21st century.

Scout will also deliver improved situational awareness, increased firepower, more protection and enhanced mobility, and it will be a key capability for land operations over the next few decades.
The Army will be heavily involved in the project from the start, particularly in the exhaustive trials with prototype vehicles, which are expected to start in 2013. When this phase concludes the MOD will be in a position to place a production contract.
Published 1 July 2010