MOD searches for innovation to give the edge in cyberspace
Ministry of Defence scientists at the Defence Science and Technology Laboratory (Dstl) are inviting research proposals for innovations that will provide an improved understanding of cyberspace.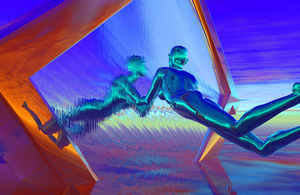 A Centre for Defence Enterprise (CDE) call for proposals from industrial and academic organisations was launched today at an event in Reading Town Hall.
Cyber situational awareness strand technical lead Robert Pimblett said:
We are looking for new analytical techniques and methodologies that grasp the scale and breadth of cyberspace and the challenges of predicting events.
The problem is to identify trends and significant events within a data set that is infeasibly large for human processing but which must ultimately be presented to a decision-maker. We're therefore looking to develop systems that can process data and autonomously decide which elements are the most relevant to present to the user.
A total of £400,000 is available for successful research proposals at this initial CDE phase.
The projects will also receive mentoring and project support from Dstl's expert staff who can provide an understanding of UK military requirements and facilitate greater exploitation opportunities for the developed concepts.
Mr Pimblett continued:
CDE exists to provide an entry for organisations that may not necessarily have a defence background, but who can offer potentially beneficial innovation that can aid MOD in its research aims.
We want to hear from organisations of all sizes; from large universities and defence primes to one-man operations.
Whilst we are looking for highly innovative and ground-breaking ideas to offer operational benefit to UK Armed Forces, these must be broad in scope.
We will not fund proposals that limit their scope and understanding of cyber situational awareness to only a small part of cyberspace; for example, it should not just be detection of cyber threats, data mining, detection of the insider threat or network monitoring in isolation.
Dstl Cyber and Influence Science and Technology Centre Leader, Dario Leslie, said:
Cyber threat is a tier one risk in the UK's National Security Strategy, and a key challenge to MOD with its extensive, networked infrastructure and deployed operational forces. The ability to understand and react to events in cyberspace in a timely and appropriate manner will be key to future success.
Completed submissions should be submitted through CDE's online portal by no later than 1700hrs on Monday 29 October 2012.
Published 25 September 2012