MOD scientists honoured in Queen's Birthday List
Two MOD scientists from the Defence Science and Technology Laboratory (Dstl) were among those to be granted state honours this weekend by Her Majesty The Queen in her annual Birthday Honours List.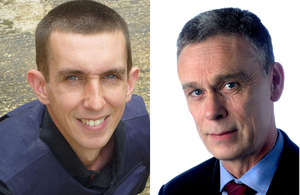 Dr Paul Rice and Dr Carl Mayers, both based at Dstl in Porton Down in Wiltshire, have been named as OBEs (Officers of the Order of the British Empire) in the Queen's Birthday Honours List for 2012.
They are among 109 UK Service personnel and 40 civilians who, either for work in the Ministry of Defence or in other aspects of UK Defence, have been honoured in the List. The full list of Service personnel and Defence civilians can be seen at Related Links.
Dr Paul Rice
Dr Paul Rice has been recognised for his world-leading work in the fields of toxicology and chemical and biological agent defence.
Recently, Dr Rice has overseen the Ministry of Defence's combat casualty care programme, which has developed numerous pioneering surgical techniques such as improved resuscitation procedures to counter the effects of blasts and haemorrhage on the battlefield.
This work has directly saved many lives on operations in Iraq and Afghanistan and is also beginning to be used in civilian trauma care.
During a career that has spanned 25 years, Dr Rice has been called on to provide specialist medical advice during overseas military operations, and has supported the UK medical fraternity with his expertise in medical toxicology.
Dr Rice is also regarded extremely highly by senior US Defence officials as a leading authority in the area of toxicology and chemical and biological agent defence.
Dr Matt Chinn, Head of the Chemical and Biological Science and Technology Centre at Dstl, said:
Dr Paul Rice has made a truly outstanding contribution to the development of medical countermeasures against the wide variety of hazards that can be used against our deployed forces.
Dr Rice said:
I am clearly extremely honoured, but equally humbled to have received this recognition and reward.
Dr Carl Mayers
Dr Carl Mayers has been awarded the OBE in recognition of his work as a biologist at Dstl. He recently developed a pioneering screening capability and training programme which has had a significant impact for the UK military in Afghanistan.
Dr Mayers deployed to Afghanistan last year to establish the capability and to train operational military staff.
Dr Mayers has been at Dstl for 12 years, and during that time has contributed to a wide range of national and international research programmes, driving a cross-disciplinary approach to problem-solving that has resulted in some significant advances.
Mrs Penny Endersby, who headed up the Physical Sciences Department at Dstl, said:
I'm delighted that Carl's exceptional efforts have been recognised with this well-deserved award. His ability to push the boundaries of the possible is recognised nationally and internationally, and I know of no-one else who could have delivered the results he and his team achieved in the time required.
Dr Mayers said:
It's been a wonderful surprise to receive this honour. I consider myself very fortunate to work with such a talented and dedicated team of people, and I'm extremely proud of the impact our work has had.
Dstl's Chief Technical Officer, Professor Andy Bell, said:
I am thrilled that the excellence, dedication and impact of the work of two of Dstl's staff have been recognised through the Birthday Honours.
Published 19 June 2012