MOD scientists honoured for counter-IED work
Two MOD civilian scientists who have developed technology to counter the improvised explosive device threat in Afghanistan were recently honoured for their life-saving work.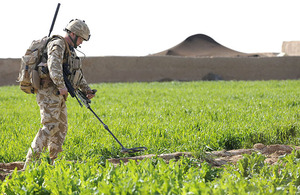 The two scientists, who work for the Defence Science and Technology Laboratory (Dstl), were awarded OBEs in the recent Queen's Birthday Honours List.
Jonathan Jefferis, who works for the Dstl at Fort Halstead, near Sevenoaks, Kent, has pioneered the development of a groundbreaking improvised explosive device detector.
He tested the new detector under theatre conditions and worked with soldiers who trialled prototypes and will be using the kit.
Kevin Wagstaff, Department Manager, Dstl, said:
Jonathan's work has proved a life-saver. On the first use of the detector in Helmand province it successfully did its job and undoubtedly saved the life of a bomb disposal expert.
Jonathan had previously led the development of a hand-held detector which was used in Northern Ireland and is spearheading research into new detector developments to give further protection to UK Armed Forces.
Kevin Wagstaff continued:
Using his unsurpassed knowledge, innovative ideas and experience on the subject, Jonathan has worked tirelessly under considerable pressure to lead the rapid development of a new detector suitable for Afghanistan.
Dr Robin Hiley, a Chief Scientist based at Dstl in Fort Halstead, was also awarded an OBE.
He has been instrumental in the delivery of capability to support counter-terrorism operations internationally and has twice been deployed on operational tours as a scientific adviser - first to Iraq in 2005 on Operation TELIC and more recently to Afghanistan in April 2009 on Operation HERRICK.
During his four-month deployment in Afghanistan, Robin led urgent work to develop new improvised explosive device detection capabilities that are now deployed and saving lives in theatre.
Kevin Wagstaff said:
Robin has made an immeasurable contribution at the MOD and across wider government to the fight against global terrorism, with his work directly saving soldiers' lives in theatre.

Robin's work on improvised explosives has helped to protect the UK from terrorist attacks and provided vital evidence in terrorist trials.
Robin's work may in future be seen at UK airports where the techniques he has developed are being taken forward commercially to provide an improved capability in airport security.
Published 29 June 2010