MOD scientist develops multiple-substance detection device
A new biological device that can sample and detect a range of hazardous substances and explosives at the same time has been created by a Ministry of Defence scientist.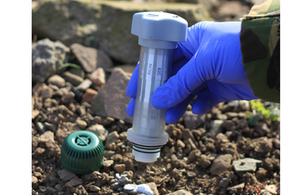 The device, developed by Dr Peter White of the Defence Science and Technology Laboratory (Dstl), could soon be used by first responders in the forensic and security sectors in the UK and abroad.
Dr White was looking for a handheld device that could sample and detect a range of hazardous substances and explosives at the same time in order to assist front line troops and counter-terrorism personnel.
The patented technology allows for rapid sampling of up to eight targets simultaneously, testing powder, liquids or surfaces directly, and has applications across the forensic and security areas.
Dr White said:
Devices that are currently fielded do not integrate sampling with detection and are not easy to use if you are wearing gloves.
This invention combines a mature, established detection technology [similar to that used in pregnancy test kits] into an integrated handheld device that could be used by a generalist front line operator wearing protective clothing.
Ploughshare Innovations Ltd, Dstl's technology transfer company, has licensed the technology to BBI Detection Ltd which is developing products to supply on a global basis.
BBI Detection currently develops and manufactures bespoke detection devices for the security sector but is hoping this new device, which it has named IMASS - Integrated Multiplex Assay and Sampling System, will be accessible to a wider customer base. Levels of interest have been high in overseas markets, including the USA.
BBI Detection has made a number of improvements to the device which has many possible applications, including surface testing for food allergens or illegal drugs, or defence uses in bio-threat and explosives detection.
Richard Lamotte, Managing Director at BBI Detection, said:
It's been incredibly exciting to be part of the development and commercialisation of the IMASS device. Obviously its ergonomic design features make it particularly suitable for biodetection in challenging front line environments.
It also has a multitude of applications in the wider diagnostic arena. Discussions with potential customers, both within the UK and further afield, have generated significant interest and anticipation for the launch of the final product.
Meanwhile, Dstl has recently obtained funding from the Home Office to see how IMASS could be developed for use by the emergency services in combating terrorism.
Published 1 August 2012