News story
MOD responds to Service Complaints Commissioner's second annual report
The Ministry of Defence has published its formal response to the Service Complaints Commissioner's second annual report on the efficiency of the Service complaints system.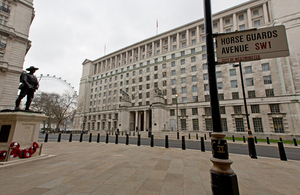 As Service Complaints Commissioner Dr Susan Atkins provides external scrutiny of the Service complaints process. In her new report for 2009, Dr Atkins has praised the progress made by the MOD and the Armed Forces against the 17 recommendations and the six objectives set out in her first annual report for 2008.
The new report sets ten new recommendations, three updated recommendations and two new objectives.
The MOD has accepted all of these and the formal response, laid before Parliament today, Tuesday 13 September, sets out how the MOD will address the recommendations.
The SCC has identified that reducing delays remains a significant challenge in improving the Service complaints procedure and has identified that ensuring complaints are dealt with quickly and efficiently is one of the key areas for improvement in the coming year.
The MOD and the three Services have accepted this need and have already made improvements in this area, but acknowledge that there is more work to be done.
Andrew Robathan, Minister for Defence Personnel, Welfare and Veterans, said:
Having fully considered Dr Atkins' second annual report, we have accepted all ten of her new recommendations, three updated recommendations and two new objectives.
It is clearly important that we continuously improve our Service complaints process if it is to remain effective and our people are to have confidence in it. We very much look forward to continuing to work with Dr Atkins as we take this work forward.
Published 14 September 2010