MOD responds to public's comments on Programme for Government
The MOD has today published its response to comments made by the public on the Defence aspects of the Coalition's Programme for Government.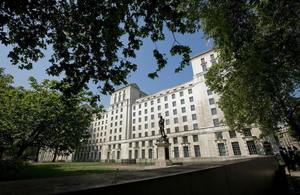 The Coalition: our programme for government' sets out a programme for partnership government over the next five years. Its online version enabled people to enter public discussion of the programme and, until 10 June 2010, people were invited to submit comments.
Over 9,500 comments were published, showing a commitment by members of the public, from all political persuasions and all walks of life, to shape the debate on the country's future.
There were lively and informed debates on subjects as diverse as climate change, foreign policy and badger culling.
Each Department has published a response to the comments for each section today, explaining the Government's position on the most popular subjects and setting out the next steps in realising the programme's vision.
Here follows the Defence response to public comments on The Coalition: our programme for government:
After 12 years without a defence review, when our Armed Forces have at times been overstretched, with legacy equipment programmes from the Cold War, and in our current financial circumstances, we are now undertaking a long overdue Strategic Defence and Security Review (SDSR) against three core principles:
Relevance: Defence posture and capabilities must be relevant to the world we live in, dispensing with much of the Cold War legacy.
Realism: We cannot insure against every imaginable risk so we must decide which risks we are willing to take.
Responsibility: the nation has a duty to support our Service personnel. We are determined to ensure they have what they need to do what we ask of them, and that they and their families are looked after properly.
Economic strength sustains in the long-term the capabilities we need, including military capabilities, to keep our citizens safe and maintain our influence on the world stage.
Economic stability and prosperity in Britain is the top priority for the Government and is at the heart of the coalition agreement. The national finances today are severely constrained by the huge budget deficit left by the previous Government which threatens the health of our economy.
We must therefore cut spending and Defence cannot be immune from this. The future defence programme we inherited is entirely unaffordable, especially if we tried to do what we need to do in the future while simultaneously doing everything in the way we do it today.
But whatever the specific outcomes of the SDSR, we will ensure procurement delivers effectively and that the UK has robust and well equipped Armed Forces able to protect our security and interests at home and abroad.
At the moment our Armed Forces are engaged in a vital struggle in Afghanistan to ensure that trans-national terrorists cannot find safe and unhindered sanctuary there as they did before 9/11. We are resolved to see the mission through and to train the Afghan National Security Forces so that they can take over the security of their country and our forces can come home.
But where we can, we seek to avoid conflict. Deterrence is key to this, and the nuclear deterrent is fundamental to our ability to deter the most destructive forms of aggression. We will continue to press for continued progress on multilateral disarmament.
But in an unpredictable world where we cannot see very far into the future, where nuclear weapons will not be disinvented, where we are seeing wider proliferation, we will not gamble with the country's future. We will therefore maintain the UK's essential minimum deterrent.
The capital costs of the successor programme are likely to be up to £20bn; that is a small proportion of government expenditure. But where we can reduce the costs we will, which is why we are scrutinising Trident's renewal to ensure value for money.
In a video posted on the Programme for Government website, Danny Alexander, Chief Secretary to the Treasury, said:
The response has been fantastic and I'm pleased to see people have really engaged with this process.
I hope people will see that this is different, it's a permanent change to the way we run government, and that it is worthwhile engaging in this kind of process in the future. It's important for us in government to remember we don't have all the answers.
Oliver Letwin, Minister for Government Policy, said:
At last, government has realised that there are 60 million citizens who really do have ideas. Through processes like this, we can give real power to the people and make things open.
Published 30 July 2010