News story
MOD publishes options report for future management of Dalgety Bay
The Ministry of Defence has today published a report setting out the possible options for the future management of Dalgety Bay in Scotland.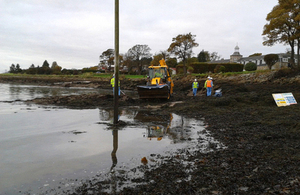 The Outline Management Options Appraisal report presents preliminary details of possible measures and activities for the management of radium contamination that has been identified at the bay.
It aims to provide an indication of the potential nature and range of available measures and activities which could be implemented to enable the effective long-term management of the contamination.
The report highlights that the preferred option is likely to comprise a combination of each of the measures and activities presented.
However, further work is required before a conclusion about the best possible course of action can be reached. This work includes the need for a more detailed quantitative risk assessment, and the development of health protection remediation criteria also needs to be progressed.
MOD supported the Scottish Environment Protection Agency (SEPA) in its statutory inspection and remains committed to playing an active role, alongside other parties, in achieving a long-term solution to the contamination issue at Dalgety Bay.
Mark Hutchinson, Acting Chief Executive of the Defence Infrastructure Organisation, said:
We welcome the ongoing constructive engagement we continue to have with SEPA and support its efforts to bring all interested parties together to evaluate and take forward the next steps to address the issue of radioactive contamination at Dalgety Bay.

Any acceptable long-term management solution must be effective, practicable, and proportionate to both risk and cost.
Published 22 January 2014