MOD policeman pioneers Afghan 'Crime Stoppers'
A Ministry of Defence policeman is helping to pioneer a 'Crime Stoppers' style freephone facility which offers local Afghans the opportunity to report crime or injustice.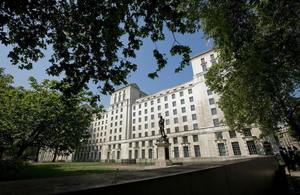 Detective Sergeant Gardner 'Gardy' McKay's role in Afghanistan involves mentoring the police in Lashkar Gah through the Helmand Provincial Reconstruction Team, which he admits has been 'challenging but very rewarding'.
As well as mentoring the Afghan Police Gardy has been involved with the Afghan Crime Stoppers - just like the freephone facility in the UK.
Helmand province, where the British forces are based, is the first region to run the scheme, which is being considered for an Afghan-wide roll-out.
Asked about Crime Stoppers, Gardy explained:
The idea for Crime Stoppers goes back to 2009. The Afghan Police run a freephone facility which allows locals to call any time of the day or night to report crime or injustice.

In my time out here we have had calls covering a range of serious crimes, including murder. Importantly, we have had tip-offs for four roadside bombs.
Gardy considers the tip-offs for the roadside bombs a notable success - saving the lives of locals, Afghan security forces and ISAF troops:
The calls which led to the four roadside bombs being given up by locals stand out particularly. Those calls saved lives.
The success enjoyed by Helmand Crime Stoppers has been echoed throughout several other regions, including Kabul and Kandahar. The next step is to turn these regional help lines into a single nationwide network.
Gardy said:
The key to Helmand's success has been advertising Crime Stoppers on local radio and on Afghan Police vehicles. If this can help save the life of even one person then it should be seen as a success.
After spending six months in Afghanistan, asked what he would miss most about leaving the country, Gardy said:
It's all about the people. I have made some good friends out here from within both the local Afghan community and the international stabilisation team.
However, he added:
I am glad to be heading home to be with my partner Laura.
Published 24 October 2012