MOD Police Officer rewarded for work with female police in Helmand
Deployed as a volunteer civilian in Afghanistan from November 2009 to March 2010, Constable Amanda Henderson was awarded the Queen's Commendation…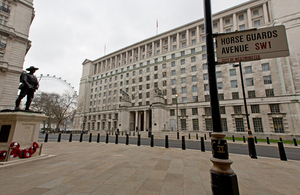 Deployed as a volunteer civilian in Afghanistan from November 2009 to March 2010, Constable Amanda Henderson was awarded the Queen's Commendation for Valuable Service for her work in developing the nascent female contingent of the Afghan National Police (ANP) in Helmand province.
As her citation for the award recognises, this was no easy task, with attitudes to women in such roles in Helmand amongst the most conservative in an already conservative country.
Constable Henderson was responsible for the co-ordination of training and developing ways of improving the status of women police officers and had to overcome extreme and, on some occasions, aggressive prejudice, illiteracy, apathy and a multitude of other cultural differences to succeed.
However, succeed she did, and Constable Henderson is described as positively revelling in the challenges and displaying the greatest professionalism and dedication to what is 'probably one of the hardest challenges within the police reform programme'.
Constable Henderson's initial challenge was to assess the current recruiting, training and development situation where she found a number of females who although trained did not have an official role or task, while others sat around untrained and with little prospect of being trained.
Constable Henderson faced a good deal of hostility from some ANP members when she designed and developed a three-week female training package that included most aspects of basic police work, firearms, and constitutional and female issues.
Constable Henderson also arranged for radio broadcasts in an attempt to attract females into the ANP. This was successful and the number of female officers has increased in the last six months by 11, no mean feat in this culture.
Explaining the need for more women in the ANP, Constable Henderson said:
Not to mention the fact women are half the population, women are needed on operations. You need women to search other women and you need women to deal with women's issues.

Once word got around that there were female police officers we got young girls coming into the police station with problems as they knew there would be another woman there for them to talk to. They are desperately needed.
However, the handful of women that were in the police in Helmand had no role or training and sat idly with no support or recognition:
We basically had to start from scratch and design a training programme to suit them," Constable Henderson explained.

It was very difficult at first; I didn't get any support at all for trying to recruit female officers and it took me months and months trying to get the females uniforms but we finally did in the end which was a major achievement.
Despite her personal achievements, Constable Henderson is keen to stress that she was part of a team and that the real stars are the women themselves:
It is a very dangerous job for them but they are a proud people," she said.

They were fantastic, and because it was quite a small group I managed to get to know them all quite well and they are just a really nice bunch of very brave ladies. They go through so much every day of their lives just going to and from work - let alone while they are at work - and they are still out there doing it every day.
"They are some really strong characters and they have to be to be doing what they are doing against the backdrop of what is going on out there."
Constable Henderson said that shock was her first reaction when she heard that she was to receive the Queen's Commendation for Valuable Service, but that 'it is lovely to get some recognition':
It is a weird thing to say but I really enjoyed my six months in Afghanistan - and to get this award is just the cherry on the cake really.
Published 29 September 2010