MOD Police help UK soldiers train Afghans
HMS York left Portsmouth, bound for the South Atlantic, on Saturday where she will conduct maritime security patrols around the British South Atlantic Islands, including the Falklands and South Georgia.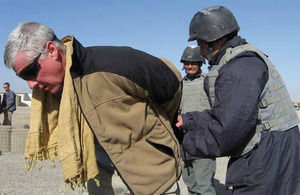 On her journey south, the Type 42 destroyer will call at Gran Canaria and the Cape Verde Islands. She is due to arrive at East Cove Military Port on East Falkland in mid-March 2011.
Over the last few months the ship has undergone a considerable amount of maintenance and has been fitted with two new Rolls-Royce gas turbine engines. The ship also put her Sea Dart missile system to the test and fired seven missiles on the Navy's Hebrides firing range.
Her Commanding Officer, Commander Simon Staley, said:
York has been preparing hard for this deployment to the South Atlantic, a region of high profile political and joint military interest where the Royal Navy has had a continuous and significant effect over the last three decades.
I am delighted with my ship's company's response to recent training and am hugely grateful for the first rate engineering support provided by Portsmouth Naval Base to ensure we sail in a safe and sustainable material state.
Our families deserve a very special mention and thanks too as they have been the very cornerstone of strength for us all throughout a hugely demanding period of regeneration.
By sheer distance from the UK, and in the face of a harsh South Atlantic winter, the deployment will present real operational challenges for us all, but this will be balanced by the visits to some wonderfully diverse countries and the opportunity for the Royal Navy to demonstrate its impressive global reach and versatility.
On completion of her tasking in the South Atlantic, York will undertake a number of high profile regional engagement visits in South America, the Caribbean and the USA. She is due to return to Portsmouth in July 2011.
Published 21 February 2011