MOD Police help UK soldiers train Afghans
Working with the British soldiers who run the Helmand Police Training Centre are a handful of MOD Police who are passing on their expertise to the fledgling Afghan force. Report by Ian Carr.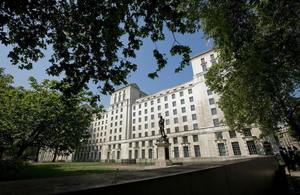 Leaving the main operating base at Lashkar Gah, a convoy of close protection land cruisers bullies its way down the long road that leads to Gereshk. Mopeds, jingly trucks, battered cars and motorised three-wheelers, sounding like swarms of angry wasps, hurtle in every direction.
In the third vehicle of the convoy sits Lieutenant Colonel Adam Griffiths, Commanding Officer of The Argyll and Sutherland Highlanders, 5th Battalion the Royal Regiment of Scotland (5 SCOTS), and officer in command of the Helmand Police Training Centre (HPTC), which is where he is heading now. He's in an upbeat mood:
I love all this," he said, pointing to the torrent of life on either side, and often, in the middle of the road. "It's great to see all these shops open, and people out and about.
All along this arterial road armies of builders are at work on what are clearly going to be very big buildings indeed. On the ridge are two impressive new private houses. The design of one is based on a sequence of pyramids. It wouldn't look out of place in Las Vegas:
Things have really changed round here. Even in the last six months a lot of new build has taken place. Some of these places are going for $200,000; it's going to be a very sought after area," said the Colonel.
This is no ISAF Provincial Reconstruction Team project. This is all private money. Here, at least, society is moving on, and it needs its police force to keep pace.
As we swing into the HPTC car park, past the newly-built, but not yet completed, police academy, which has cost the Dutch and the UK $6m, the Colonel gets serious:
We are reaching a critical decision point with Afghan National Police [ANP] training. If we are going to make this work we need a lot more real police to come out here to help with the training.
While the Colonel has been in charge, the training centre has grown rapidly, with more than 2,000 Afghan police patrolmen having graduated. He is now calling for more of what he calls 'real police expertise' to cope with this ramping up in pace:
Let's be honest, the only experience 5 SCOTS have of policing is when we are bailing our guys out of the nick on a Saturday morning," he joked.
Currently ten MOD police officers, all volunteers, are providing training," said one of them, Inspector Christine Edwards, HPTC's training manager, responsible for producing the school's syllabus and the methods of training.
Although rewarding, training the Afghans can also be a frustrating job. For many of the students, this is their first taste of a classroom environment so concentration levels can wobble.
Sometimes one-to-one squabbles can flare up into group fights. But at times like these Inspector Edwards' team knows how to calm things down and get things back on track.
Channelling that energy into the lessons is a challenge for the MOD police instructors and it means having to design new approaches to learning. The officer in charge of training, Major Jake McKay, put it into perspective:
We always have to keep in mind the students' capacity to learn. Ninety-five per cent of the intake is illiterate so most of the training is practical and includes games to keep them stimulated and build team spirit. We reinforce things through repetition.
Although often poorly educated, it would be a serious mistake to underestimate the students' intelligence and powers of observation. They can be only too willing to use those skills to capitalise on any British reluctance to offend cultural sensitivities if they feel it will gain them an advantage over their teacher when they are not in the mood for lessons:
If one of my guys swears, it can backfire and disrupt a lesson for 20 minutes while things calm down and apologies are made and accepted," said Major McKay.
Cultural sensitivities have an impact on the practical training too as police recruits have rarely travelled beyond their home village and find it difficult to stop strangers and question them:
They are only used to talking to friends and family from their own village. So we teach them policing skills, how to control a situation and that when they question people that they mustn't immediately treat them as suspects," said Inspector Edwards.
As well as being taught police skills, each recruit receives 64 hours of literacy training:
If a young man who can't read has responsibility for weapons, how can he account for them and make sure they aren't missing if he can't check a log? He must be able to take notes to gather evidence and be able to brief others," said Major McKay.
MOD policemen PC Kyle Greenfield and PC Rob Bendy have recently joined the training team and believe the quality of policing is improving.
They have learned to use the Afghans' competitive nature to aid learning:
If a group doesn't find something that we've hidden in a car that they are searching, and the next group do, they really kick themselves. But sometimes, especially with the team building exercises, you have to remind them that it is just for fun.
There are signs that thanks to the work of the HPTC, the ANP's professional image is improving. Akramud is a recent recruit and says that his family are proud that he has joined the ANP.
Mohammed, who has completed seven of the eight-week training programme, was nominated as head of his platoon because of his qualities. He has been in the ANP for five years:
The training here is good, we learn to be professional," he said. "Before at checkpoints we had to wear civilian clothing, all we had were AK47s. Now we have uniforms, everything we need.

The people trust us now, this you can feel, they help us and tell us when they know things about the Taliban. This means we can protect them and control the area. Before they didn't respect us. Some police would demand money and the people would think we were all the same.
As Brigadier James Chiswell, Commander of Task Force Helmand, said recently:
Developing the police is hugely important as the social fabric that the police provide is essential to the functioning of any state.
Mohammed puts it more plainly:
Our country has been at war for 30 years. I want the Afghan Army and Police to make a good future for our people.
This article is taken from the March 2011 issue of Defence Focus - the magazine for everyone in Defence.
Published 21 February 2011