News story
MOD Police dog scoops top canine award
A Ministry of Defence Police dog and his handler have scooped a top award at the British Police and Services Canine Association Dog Trials.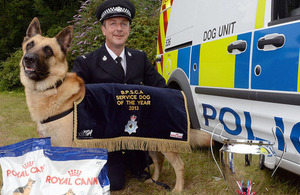 Three-year-old Belgian Shepherd Jura and his handler, MOD Police Constable (PC) Simon Hill, competed in the trials, winning the title of Service Dog of the Year and coming third in the criminal work section.
The British Police and Services Canine Association Dog Trials cover numerous disciplines required by police and Service dogs and this year's trials were attended by dogs and handlers from many of the Home Office constabularies, the Prison Service, the Army and the RAF, as well as the Ministry of Defence Police (MDP).
PC Hill said:
This was the first year that either of us has competed and we weren't sure what to expect. I had originally thought it would be a good training exercise for both of us. I'm really pleased that Jura came away with the title of Service Dog of the Year; he's a great dog and loves to work and play.

Jura is a general purpose police dog who excels in the criminal work and as a dog team we have achieved the advanced level of licensing for the past 2 years.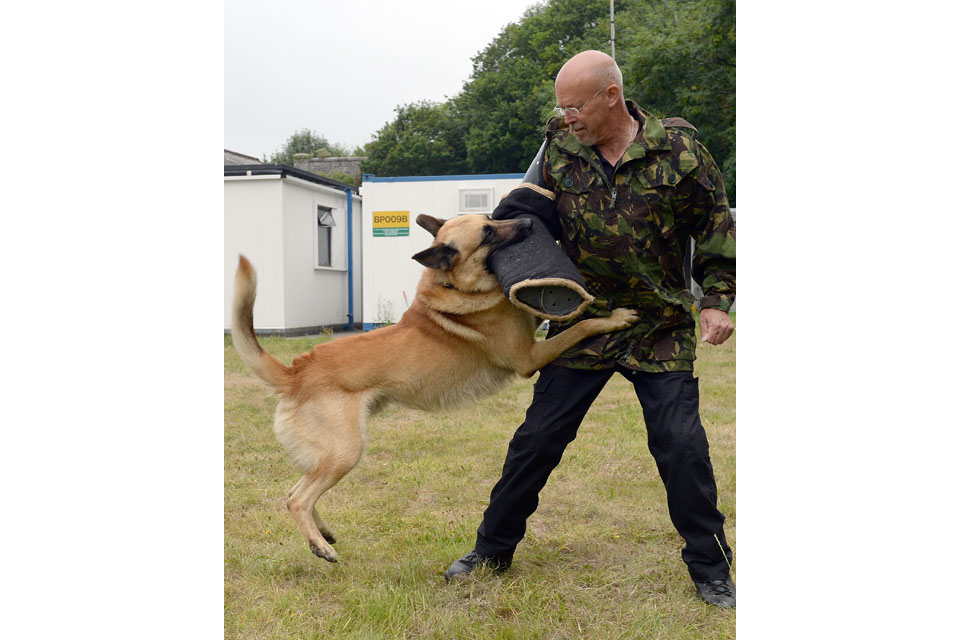 The criminal aspects of the trials focused on dogs' ability to chase and detain a 'criminal'. Other areas tested were 'obedience', which covered heelwork and general control, 'agility', which is the jumps, tunnels and weave poles, and 'property search', where the dogs had 5 minutes to find 4 articles.
Jura lives at home with PC Hill and his family near Plymouth. PC Hill taught Jura the basic skills required alongside his previous police dog Chaser before his initial police dog training course where his skills were honed and polished by the MDP trainers at Her Majesty's Naval Base Devonport. Training is continuous and evolving.
PC Hill said:
A benefit of attending the trials is the opportunity to learn different techniques from other handlers representing other forces.
The champion pair carry out many duties, from general patrols around Devonport Naval Base to detached duties guarding various venues and helping the Home Office dog force in Devon and Cornwall with criminal policing work.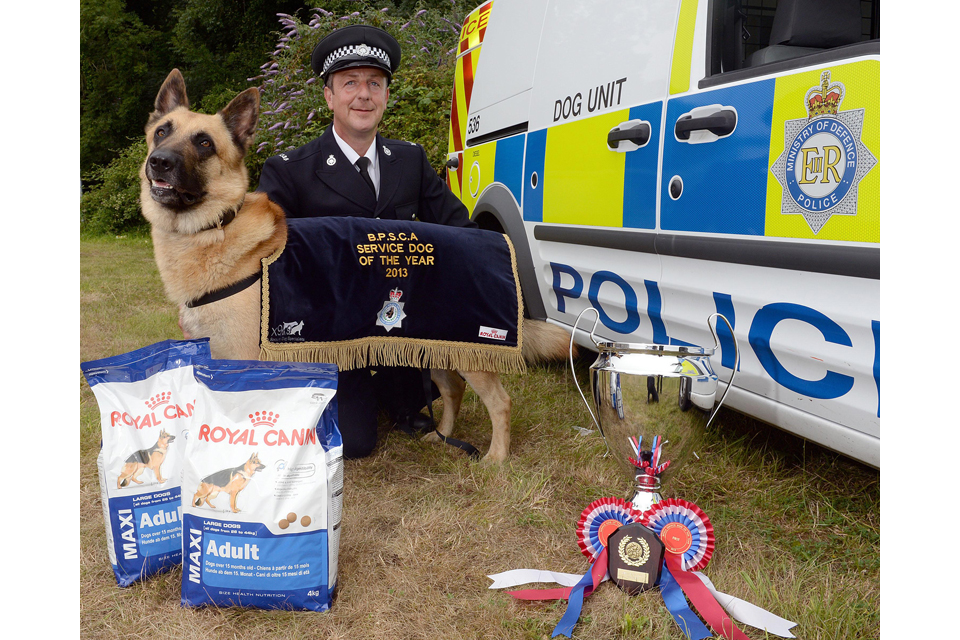 The MOD Police has a responsibility for the policing of the MOD estate. Its main roles are the protection of sites, people and equipment from terrorist attack, criminal activities and illegal trespass.
MOD Police dogs play a key role in carrying out these duties. Sites can cover large areas of land and the dogs can search the ground and locate intruders or an injured or distressed person much faster than officers.
Their keen sense of smell also means they can be trained to detect a whole range of illegal substances including drugs or explosives. In search operations it would require a number of officers to replace the specialist capabilities of 1 dog.
Published 30 July 2013