MOD pledges millions to Service children's education
Innovative projects to make sure that the children of Service personnel are not disadvantaged by moving to different schools have received funding from the Ministry of Defence.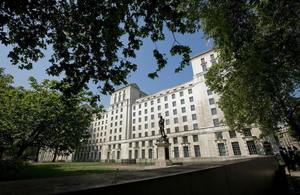 A total of 139 schools from across the United Kingdom have shared the first £3m allocated under the Support for State Schools Fund.
It is one of the key commitments of the Armed Forces Covenant, the principles of which were enshrined in law last year, and builds on the promises in education for the Armed Forces Community already made as part of the Armed Forces Covenant.
The Support for State Schools Fund was started by the MOD in 2011 and will run for four years.
The following are examples of projects which have received funding in the first round of grants:
Thirteen schools in the Helensburgh and Lomond area will benefit from £147,000 that has been awarded to Argyll and Bute Council. The money will help to prevent disruption to learning by providing short-term support to Service children while they settle into their new surroundings.

Harestock Primary School in Winchester has been awarded a grant of £40,000 to help fund a support worker to act as the focal point for Service families within the school, counselling for Service families with an absent parent, and materials for welcome packs to support the integration of recently-arrived Service families into the school community.

A further £17,500 has been given to fund a Senior Transitions Officer (STO) to benefit all Scottish local authorities affected by the rebasing announcements. The application, which was put forward by the Association of Directors of Education in Scotland, will support the secondment of a STO with the primary purpose of supporting all Service children and families moving school into, within or out of Scotland to ensure the effective, co-ordinated transition of pupils while maintaining pupils' attainments and achievements.

St Athan Primary School in Wales was awarded a grant of just under £10,000 to further support the good work taking place in the school regarding development of literacy skills.

South Farnborough Infant School in Hampshire has been offered just under £3,000 to support a scheme to improve communication with deployed parents. The scheme will loan pupils, whose parent or parents have deployed, netbooks so that they can keep in touch via Skype. The school anticipates improved social and emotional resilience from this group through the scheme.
Lynda Fisher, Director of the MOD's Children and Young People Directorate, said:
We know that moving from one school to another can be a challenging time for the children of serving personnel and this £3m fund has been set up to help mitigate some of the effects of moving away from familiar surroundings.

The money will allow schools to provide measures to ensure children of Service families do not suffer any disadvantage by moving to or through different school systems.

It was pleasing to see the interesting and varied projects that local authorities, academies and schools with Service children are already putting in place to help cope with the potential impact caused by deployment.
Published 11 January 2012