MOD Kineton receives Freedom of Warwick
Two-hundred soldiers from Kineton military base have marched through Warwick to celebrate being granted the Freedom of the Town.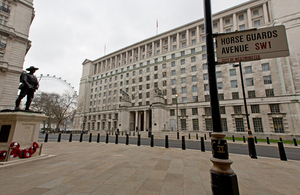 The event began at Warwick Castle, on 18 May, with a medal ceremony and presentation of the Freedom Scroll by the Mayor of Warwick, Councillor Trudy Offer, to the Station Commander, Lieutenant Colonel Simon Hirst.
The soldiers then paraded through the streets of the county town with "bayonets fixed and colours flying" before a military service at the Collegiate Church of St Mary, Warwick.
Lieutenant Colonel Hirst said:
It is a tremendous honour for the base and we greatly appreciate the support we receive from our local community. It is a reflection of the high regard in which we are held by Warwick

A lot of work went into the event and the crowds enjoyed coming out to see us as much as we enjoyed our seeing them.
Two-thousand passes were made available to allow access to the castle so the public could witness the ceremony, while hundreds of people lined the streets to cheer on the soldiers from Kineton base, which specialises in training bomb-disposal personnel and is the largest munitions depot in Europe.
Published 23 May 2012