MOD introduces pelvic protection for front line troops
Greater pelvic protection for troops in Afghanistan has been introduced to help mitigate the effects of IED blasts, the MOD has announced.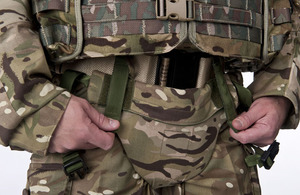 The three-tiered system of clothing and armour consists of special protective underwear and detachable armoured modular trousers. It has been designed to integrate with current kit being used by troops on operations.
The MOD has spent £10m on the new armour system to date. It balances protection with the necessary comfort and manoeuvrability for troops to undertake operations, enabling them to wear one or more of the protective layers depending on the task. They are already being worn by troops on operations, with 45,000 pairs delivered to Afghanistan and another 15,000 ready to be issued to deploying troops. A further 60,000 are to be manufactured and delivered to troops early next year.
The first layer of protection is a pair of shorts, which troops wear as underwear.
Using cutting-edge science and technology developed by the MOD and the Defence Science and Technology Laboratory, the underwear is manufactured from scientifically-tested ballistic silk material that provides an initial level of protection to mitigate against the effects of blasts, including shrapnel.
The video shows, in slow motion, a bullet being fired into and repelled by the new three-tier pelvic armour system.
They have been bought as an Urgent Operational Requirement worth £6m and are being manufactured by Northern Ireland-based Cooneen, Watts and Stone.
A second layer of detachable pelvic body armour, designed to meet the greater threats faced by soldiers on the ground has already been successfully trialled by the MOD. It can be rolled up and clipped to a belt and then pulled through the legs to form a protective pouch - meaning troops' mobility is not impeded. It will be issued to all troops operating outside the wire from Spring 2011.
The £4m contract for 25,000 sets of the second-tier body armour has been signed with Northern Ireland-based Hawk Protection Ltd.
For troops whose role demands even greater levels of protection, such as those operating hand-held metal detectors to search for IEDs, a third tier of pelvic protection is being developed to offer even greater coverage - including the upper leg and wider abdominal region. Design trials are planned to take place in early 2011.
Personal Combat Equipment Team Leader at Defence Equipment and Support, Colonel Peter Rafferty, said:
Our troops in Afghanistan face specific threats, and by working together the MOD and industry have created a layered system of clothing and body armour that offers troops fighting on the front line the best balance between protection, mobility and comfort.

Troops on operations already have world-renowned body armour but we continually seek to improve the personal protection available to them.
Published 17 December 2010