News story
MOD in search for family of WWII RAF Airman from Wales
The Ministry of Defence (MOD) is searching for the relatives of a RAF Airman who was killed on a bombing mission during World War 2.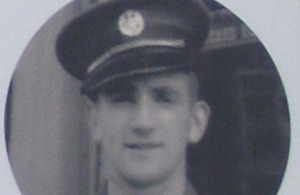 The Joint Casualty and Compassionate Centre (JCCC) is searching for Sgt Roy Penry Williams from Glamorgan, who was a radio operator on board Wellington bomber R1397 from 103 Squadron RAF when it took off from RAF Elsham Wolds in Lincolnshire in July 1941. Its mission was to bomb the German town of Emden but Sgt Williams and the other five crew members were killed when the aircraft was shot down by enemy fire near Boznum in the Netherlands.
The crew members were believed to be buried locally but their precise resting place was unknown. However, recent research by the JCCC, and a review of evidence submitted by the Royal Netherlands Army, has now confirmed all six airmen are buried in a communal grave at Leeuwarden Cemetery, Netherlands.
JCCC is organising a service at the cemetery on 15 September 2015 to re-dedicate two new headstones bearing the names of each individual crew member, including Sgt Williams. JCCC is now urgently looking for relatives of Sgt Williams so a personal inscription can be included on the headstone bearing his name and so they can be invited to attend the service. Sgt Williams's last known address was in Bridgend, Glamorgan and it is also known that his family have lived previously in the Llanllyfni area of Gwynedd.
Nicola Nash from the JCCC Commemorations Team, said:
"The service in September marks the end of a great deal of analysis by the JCCC team who have been working closely with the Royal Netherlands Army. After 74 years, we would love to be able to trace Sgt Williams's family so an inscription can be included on the headstone and so they have the opportunity to attend the service.
"Anyone who believes they may be related to Sgt Williams, or can assist with information in tracing them, can contact us on 07768 888663."
Published 24 July 2015