MOD holds industry event for future UK military housing arrangements
Defence Infrastructure Organisation (DIO) has held an industry event attended by around 90 businesses that have expressed an interest in managing, maintaining or supplying the UK's 49,000 military homes through the new National Housing Prime contract.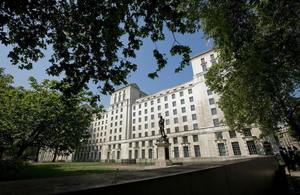 The event at RAF Wyton in Cambridgeshire attracted delegates from companies ranging from potential prime contractors, to smaller and local businesses with an interest in supply chain opportunities.
Military customer representatives also attended from the Navy, Army and RAF, and from the three service Family Federations.
Delegates were given an overview of Defence, the NGEC programme, and the changing face of the MOD estate in which successful bidders and suppliers could expect to be operating in future.
Air Commodore Alan Opie, Head of DIO Operations Accommodation, said:
Providing good quality housing is key to maintaining our Armed Forces' operational capability. This event was a very important step towards the award of a new National Housing Prime contract and our continuing efforts to improve the quality of Service homes.

It is vital that Defence Infrastructure Organisation identifies the right industry partner to support our aspiration to deliver the best possible service for Service personnel and their families.
Speakers included Brigadier Richard Cary, representing the Deputy Chief of the Defence Staff (Personnel and Training), who emphasised the importance of military housing to the Armed Forces, along with senior NGEC managers Steve Rice and Mike Pearson, and Colonel Bill Morris, the project manager for the contract.
Colonel Morris said:
There has been a high level of business interest in this opportunity, and it was particularly pleasing to see a good number of smaller enterprises networking with larger potential prime contractors. A healthy and competitive supply chain will contribute strongly towards ensuring value for money and good level of customer service.
The event also provided potential main contractors and small and medium-sized companies with the chance to discuss potential sub-contracting opportunities during a networking session, and to put pressing questions about the programme to an NGEC panel.
Details of companies with a formal interest in the National Housing Prime are now available via the online NGEC Potential Bidders Directory, enabling small and medium-sized enterprises (SMEs) to identify potential supply chain opportunities.
The National Housing Prime will be awarded in late 2012, and will run from April 2013 for five years initially, with the option to extend it by a further five years. It is estimated to be worth up to £1.5 billion over 10 years, depending on which services are included and on whether the contract is extended.
Published 6 May 2011