MOD Guard Service wins gold
The MOD Guard Service has been awarded the top accreditation in the security industry.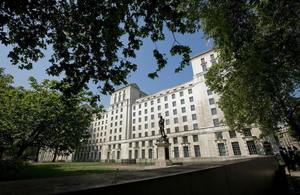 In recent years, the MOD Guard Service (MGS) has been raising its professional standards quite significantly.
Being holders of the Silver Accreditation from the National Security Inspectorate (NSI) was a source of pride to the Service but after a great deal of hard work by a large number of staff, the MGS has finally achieved the Gold Standard.
Sandy MacCormick, Head of Profession for Unarmed Guarding, received the NSI Gold Standard from the Chief Executive of NSI, Andrew White CB (Companion of the Order of the Bath), at a short presentation held recently in Main Building.
MOD Director General of Human Resources and Corporate Services, Susan Scholefield, took a keen interest in the MGS's progress toward this achievement and was delighted with the news.
She said:
I know just how much hard work has gone into reaching this NSI standard. Knowing them as I do, I would have expected nothing less from the Guard Service. Well done to everyone involved in getting the MGS to this pinnacle.
NSI-approved companies must prove their competence on an ongoing basis so that high standards are maintained:
The achievement of this standard is momentous for our organisation," said Sandy MacCormick.
A real milestone in our professional standing and reputation.
The Gold Standard is about improving processes but also about achieving consistency throughout the organisation, something that is a challenge in the geographically widespread MGS.
Andrew White of NSI said that to achieve the Gold Standard an organisation had to meet all relevant British Standards and had to achieve the IS9001:2008 quality management standard relevant to the security guarding industry.
Published 26 July 2010