MOD explores future for London barracks to improve soldier accommodation
The Ministry of Defence is seeking the views of industry on how to improve facilities for soldiers based in central London.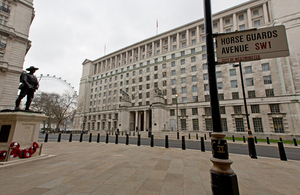 Hyde Park Barracks is the home of the Household Cavalry Mounted Regiment (HCMR), which provides ceremonial troops for all state occasions. The Barracks date from 1970 and are now in need of modernisation so the MOD is asking developers to propose potential solutions to improve their facilities.
The Defence Infrastructure Organisation (DIO), MOD's property and services provider has now commissioned a market testing exercise which could lead to the relocation of the HCMR to a new London base, enabling the release of the vacated site for an alternative use. However, a decision to relocate the HCMR will only be taken if the proposal provides improved facilities and ensures the Regiment can continue its ceremonial duties.
DIO project officer Paul Howarth said:
DIO's priority is to support our Armed Forces as they prepare for their military duties. We are constantly looking for ways of improving facilities for soldiers, but site limitations at Hyde Park Barracks restrict effective modernisation.

We are considering options to address this and relocation of the HCMR is one option. It is essential that HCMR still remains in central London to enable participation in ceremonial and public duties.

Developers are asked to identify alternative Central London sites that, as part of a commercial solution, could give HCMR more space and scope for better facilities. However, any proposals must meet a range of military criteria before being given further consideration.
Any alternative sites must meet the military criteria, which stipulate, amongst other things, that a proposed site must be:
large enough to locate all facilities required by HCMR on-site;
located within 4 km (some 30 minutes ride ) of Horse Guards Parade;
large enough to have an on-site indoor area for exercising horses; and
located no more than 1 km from an outdoor equestrian exercise area and park-land.
CBRE has been appointed as the property advisor for this stage of the project, due to its significant expertise and experience in market testing working with the MOD.
Peter Burns, Executive Director at CBRE, said:
The opportunity that Hyde Park Barracks offers will generate interest from a wide variety of national and international developers. The market testing process is designed to help DIO formulate the most beneficial route to secure the goal of delivering best in class accommodation for the HCMR.
Published 11 June 2012