MOD confirms the vacation of sites in Bath
The Ministry of Defence today confirmed the move of MOD staff from Bath to Abbey Wood, Bristol, by March 2013.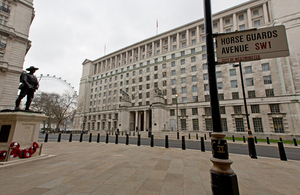 1,400 people currently employed by the MOD at three sites in Bath (Ensleigh, Foxhill and Warminster Road) will relocate to modern and environmentally-sustainable offices in Bristol, saving around £39.5m over 15 years and contributing to the MOD's continued rationalisation of the Defence estate.
Following a period of formal consultation with trade unions, the move, decided upon in March, has now been confirmed. During the consultation period, the Minister for Defence Personnel, Welfare and Veterans, Andrew Robathan, met with local MPs Don Foster and Jacob Rees-Mogg, leaders of Bath and North East Somerset (BANES) Council, and representatives of the trade unions, to hear their concerns, extending the consultation period to the end of June to fully consider all the points they raised.
Keen to end a considerable period of uncertainty for staff, and after careful consideration, the Minister has decided that moving to Abbey Wood remains the most cost effective and efficient solution for Defence. The moves are due to start in autumn 2012, and will complete by March 2013.
The relocation of these staff is in addition to the move of 1,200 other staff located at the Bath sites who work for Defence Equipment and Support, and who are already in the process of relocating to Abbey Wood by March 2012. Together, this will result in the complete vacation of Bath by the MOD.
Once the relocation to Abbey Wood is complete, the three sites will be offered for disposal, with Foxhill and Warminster Road becoming available first and Ensleigh being retained for a longer period until IT systems housed there drop out of service. In line with usual MOD estate procedures, priority will be given to other government departments to consider if they have a use for the sites before offering them for sale on the open market.
A Bath Sites Working Group was established last year to ensure close engagement between the MOD, Local Authority, Homes and Communities Agency (HCA), and other key stakeholders over the future use of the sites, and this will continue. MOD will also work closely with local public transport providers and other interested parties to develop sustainable transport strategies which will seek to minimise the impact of longer journeys to work for staff, and the impact on local traffic congestion.
All personnel affected have been informed of the decision, and a comprehensive communications and support package has been put in place to help people through the move process.
Mr Robathan said:
In these difficult times, the MOD must continue to drive down support and estate costs wherever possible and this relocation will result in savings of around £39.5m over 15 years. This is why, after fully considering the concerns expressed to me, I have decided that, on balance, relocation from Bath to Abbey Wood represents the most cost effective and efficient solution for the Department.
We already have in place meetings between the Department, the Local Authority and the HCA to plan the future use and development of the Bath sites as I recognise how important this is for the city. I have also written to my colleague, Mark Prisk, the Minister for Business and Enterprise, to provide my support for any future application that BANES Council may make to his Department to assist them in shifting to a local economy based on a greater proportion of private sector jobs.
I also understand that the move to Bristol will represent a significant challenge for our staff, and we will provide them with a package of support to help them through the transition, including allowances for additional travel costs. We will work with the Local Authority and public transport providers to further develop our sustainable transport strategies for Abbey Wood and we will continue to work closely with the Trade Unions on all issues affecting staff.
This decision follows the Strategic Defence and Security Review announced in October 2010, which will result in the reduction of MOD staff numbers, including those based at Abbey Wood over the next four years. This has enabled Defence Equipment and Support to open up office space at Abbey Wood for other MOD organisations.
Published 7 July 2011