MOD civilian turns Olympic Games Maker
The Armed Forces weren't the only ones to work flat out at the Olympics, scores of MOD civilians also gave up their holidays to volunteer. MOD civil servant Lorraine McBride joined the press operations team at Horse Guards Parade for the beach volleyball. This is a diary of her experiences.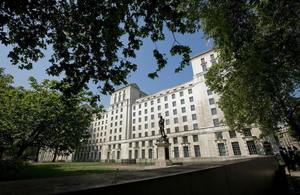 Friday 6 July
I'm on cloud nine - I've been invited to join the Olympics press team at Horse Guards Parade, the venue for the beach volleyball. Back in 2010, when I sent in my application to join Britain's army of Games Makers, I thought I'd be lucky to get an interview, so when it emerged that quarter-of-a-million people applied I felt very lucky.
Thursday 12 July
It's teeming with rain in West Ham and I'm here to collect my Games Maker uniform. The queues are just like the X Factor auditions with thousands of bedraggled volunteers everywhere.
Inside, I head for a cubicle to wrestle with my uniform and the male wardrobe assistant advises us to 'be each other's mirror'. There's a lot of kit: polo shirts, trousers, trainers, baseball cap, jacket, postcards, bag, umbrella and water bottle (all branded London 2012), and, best of all, a snazzy red Swatch watch - I can't stop checking the time.
**Monday 23 July
**Venue training at Horse Guards Parade and it's awesome to see how builders have created a stadium from gravel to grandstand in just 35 days, containing more than 400 tons of sand. Giant sand sculptures remain under wraps in St James's Park. In just six days, 15,000 spectators will pour through Horse Guards three-times-a-day.
On the training court, we gaze at the 'Horse Guards Dance Troupe' being put through their paces by their choreographer. Their routine looks slick and, as they shimmy and wiggle, they look more like the Pussycat Dolls.
Friday 27 July
The First Lady, Michelle Obama, has recorded a special good luck message, which is emailed to every volunteer, saying 'you're the face of the Games in so many ways… these Games are going to be spectacular and they wouldn't be possible without your effort and dedication so good luck, have fun and thank you'.
Sunday 29 July
Let the volleyball begin. I rise at the ungodly hour of 5.30am and it's a thrill wearing my Games Maker kit even though the purple and poppy colour combo makes me feel like I work for Sainsbury's. When I see other Games Makers on the tube, we share nods of recognition.
Despite being friendly and efficient, the soldiers in St James Park don't mess around - no bottles of water over 100ml are allowed in and my strawberry water must be thrown away.
It's exciting to see the world's press, up high in the vast media stand referred to as the 'tribune' where I'll lead the team of match 'results runners'. We'll get to see loads of action but all volunteers are advised that we could be on camera which means we can't eat, yawn or - worryingly - sit down for our entire 10-hour shift. I acquire a walkie-talkie but take all day to master it. Each shift of eight volunteers works for six hours before changing over and includes half-a-dozen teachers who are patient, friendly and big-hearted, and it's amazing how quickly you bond with your team.
Horse Guards Parade is an outdoor arena so, when it rains, the fans unpack their brollies and pull on ponchos, yet nothing dampens their spirits. Meanwhile volunteers race around covering each terminal with a plastic wrapper. Horse Guards is definitely one of the wettest venues but we can't use our Olympic umbrellas as it will block the views of the TV commentators.
Monday 30 July
Beach volleyball is the Games most popular spectator sport but I never knew how highly watchable it is. Athletic, fast and technically skilled, you'll love it if you want fun, frolics, energy and excitement. At Horse Guards Parade you get all this plus the opportunity to ogle the girls in bikinis or boys in Bermuda shorts.
To help the non-sporty, key match moments are flagged up in giant capitals on screens, 'MONSTER BLOCK!', 'SPIKE', 'BOOM' or 'CLAPPING'.
Beach volleyball is also a celeb magnet. "Oh my god, that's the Crown Prince of Denmark!" gasps Ana, a Portuguese TV worker looking smitten as an exquisitely attired young man approaches the VIP seats in front of the media section, joining Prince Albert of Monaco and King Constantine of Greece, while Kofi Annan and Bill Gates have also put in an appearance. By contrast, in the arena, there is mainly a contingent of families, fun-loving dudes in Ralph Lauren polo shirts, the odd geek, and young girls sporting Union Jack bowlers.
Tuesday 31 July
It's tough trying to keep up with so many match results flowing in but there's a real passion for sport. Boris Johnson is 'in' today and when the DJ eggs the crowd into giving a special 'Boris wave' he gamely joins in. Even though taking photos of celebs is strictly frowned upon, the volunteers quickly swarm in for souvenir photos.
**Wednesday 1 August
**The atmosphere is awesome. Who knew that beach volleyball was so bonkers? When athletes emerge, they jog through a guard of honour formed by the scantily-clad dance troupe, high-fiving all in sight. Right from the off, when the Mexican bugle sounds, the sell-out crowd shouts 'Ole!', even early in the morning, and amuse themselves with Mexican waves. At match point, the crowd rise to sing a few bars from Queen's 'We Will Rock You', then the losers depart to the strains of 'Another One Bites the Dust'.
The real unsung heroes are the 'Games Rakers' who sweep the sand off the tramlines to a blast of Benny Hill's theme tune. Whipping the crowd up, Horse Guards' excited stadium announcer bellows "these Games Rakers have been training for years! They started off in sandpits at just three years old, then they graduated to the beaches. Now this is the pinnacle of their careers as they perform at the Olympics! Let's make some noise for the GAMES RAKERS!" to rapturous applause.
Thursday 2 August
Must be the Olympic spirit, but it is heart-warming just how many friendly strangers spark up a conversation with me on the bus and enquire what it's really like to work at the Olympics. I'm a tad grouchy at 5.30am but touched by Games bonhomie when a guy asks "so what are Britain's medal chances today then?" making me feel like Gary Lineker.
At Charing Cross, Canadian Adam Hanson proudly tells me that his sister Janine has just won a silver medal in the women's eight rowing race and he's off to celebrate. A day earlier, he'd enjoyed the beach volleyball at Horse Guards: "the competition is very serious but the venue is the most fun by a mile," is his parting verdict.
Tonight is my first night shift and there is a different vibe, less family-orientated with more adults. The crowd is rocking, and by the time Brit duo Zara Dampney and Shauna Mullin appear, a wall of noise reverberates under our feet but the girls crash out in the 'lucky losers' round 2-0.
Friday 3 August
The competition hots up as it enters the medals stages and the excitement is building. Horse Guards is now officially enjoying the Games biggest press profile across the world partly thanks to its iconic location. Under the dazzling floodlights looking out over the illuminated London Eye with Big Ben to our right and in the shadow of Downing Street, it makes for a magical, romantic landscape. No wonder that when hard-bitten reporters take in the sight, they simply say "wow!"
With Team GB crashing out the crowd become honorary Brazilians. Tonight, the reliable Games Rakers are introduced as 'Rake That' and the stadium announcers promise to play 'Rake Me Up Before You Go Go' later in their honour. Word goes round that Prince Harry will be a guest at the Women's Final next Wednesday but my last shift ends a day earlier - aww.
Sunday 5 August
Things have fallen into place. I've finally got to grips with my walkie-talkie and, like all my fellow volunteers, I feel fitter running up 90 steps all day:
Volunteering is my equivalent of 'I'm a Celebrity Get Me Out of Here'," explained volunteer Craig Tuppling, a deputy principal of a college who's staying with mates over the Games. "I've got no wife, no kids and no Skype.
Team GB rowers Captain Heather Stanning and Helen Glover drop in to Horse Guards and are swamped by fans.
Tuesday 7 August
My last day, and I'm thrilled to receive a souvenir silver relay baton to mark our contribution to the Games ('to reflect great teamwork') along with bronze, silver and gold pin badges.
It's been a truly rewarding once-in-a-lifetime experience to know that I've played a tiny part at the heart of a global sports event. Hours were long and late, and at times it's been shattering standing on my feet for 10-hour shifts.
At the same time, I've met so many talented, enthusiastic and committed people who have worked tirelessly for nothing, yet feel deeply privileged knowing they've been part of history. The bonus is that I now know the rules of volleyball and made new friends. In fact, I'm so inspired by the sporty vibe, I plan to take up Zumba.
Published 16 August 2012