MOD civil servant makes £6m in savings
MOD civil servant Stacey Cooper has been awarded for her remarkable work in Afghanistan that has led to savings of £6m for the British Government.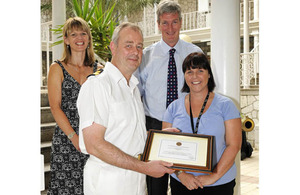 Commander British Forces Gibraltar, Commodore Adrian Bell, presented Stacey Cooper, the Command Commercial Manager at HQ British Forces Gibraltar, with an award for her work in Afghanistan in 2009.
The citation, written by Commander Joint Forces Support Afghanistan, describes how Stacey arrived at Camp Bastion with responsibility for a £45m budget and immediately made savings of £6m whilst still improving the services provided by contractors.
And, despite being outside the scope of her job, she implemented a major contract for the supply of fuel for British forces operating out of Camp Bastion and increased the number of contracts with Afghan companies from nil to over one hundred:
Placing contracts with Afghan companies helped to generate a competitive and stable local economy. It was also part of a successful reconstruction strategy.
The citation also stressed that:
She ensured that forward operating bases got those small items which make such a big difference to soldiers' morale and well-being, such as washing bowls, mirrors, kettles and mini-fridges.
Commodore Bell stressed the value of Stacey's operational background:
In Gibraltar's complex commercial world, Stacey's experience has proved vital in improving our commercial sense and our commercial arrangements.
After previous jobs in Iraq and the Balkans, Stacey's six-month posting to Afghanistan was her third operational tour:
I like the pace of work on operations and I like to see the tangible results from my work. And, as an MOD civil servant, I feel that we are here to support the troops in the front line.
Published 8 July 2010