MOD celebrates 10 years of supporting at-risk students
The MOD has marked the 10th anniversary of its award-winning educational programme that equips students from deprived backgrounds with valuable lifelong skills. Report by Lorraine McBride.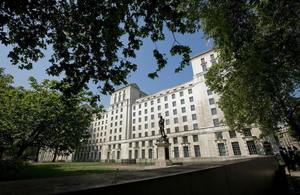 The MOD's Education Outreach Programme involves more than 40 military and civilian staff across all ranks and grades volunteering to mentor students, give talks on specialist subjects, or give up a little of their time to host students who have never visited a large employer before.
Run by MOD civil servant Andy Gillman since 2002 the programme aims to instil lifelong skills in students studying in a number of further education colleges across the UK where diversity is frequently in excess of 60 per cent and more than half the students do not have English as their first language.
This skill development is achieved through a combination of initiatives including MOD mentors helping students on particular courses and hosting 'taster' visits to Whitehall. These help students improve their job prospects through training and having an insight into the workings of a major employer.
Over 2,500 students who are deemed 'at risk' benefit yearly from the scheme which in 2009 won the Race for Opportunity Mentoring Award and reached the finals of the 2009, 2010 and 2011 Civil Service Awards.
The 10th anniversary of the start of the programme was celebrated this week with a reception at the MOD's Main Building in London, hosted by the MOD's Permanent Secretary Ursula Brennan. Present at the reception were the MOD volunteers on the programme and the students and staff from the colleges that benefit from it.
Mrs Brennan said:
I am particularly proud that the MOD is pioneering in this work which not only helps young people to develop their skills but provides an opportunity for our own staff to use their skills and experience in a way which is positive for them as well as the students.
The programme works with colleges across the UK on a number of courses ranging from foundation degrees to vocational business, accountancy and IT courses, with MOD volunteers mentoring students or providing talks on their areas of expertise such as the law, HR or IT.
MOD mentor Jeff Gooding who works in Main Building's HR directorate has been a mentor with the scheme for a decade. He said:
My aim is to help students tackle modules through the year. I've advised them on preparing for interviews by going down and giving mock interviews or with CV writing.
"Our feedback from college staff is that the students greatly appreciate the chance to be mentored and their performance - compared with other classes - is very much at the top end of the scale."
Jeff is keen to encourage MOD staff to get involved:
Just do it, it has two-way benefits and thinking of someone else's needs can be very interesting and challenging.
One of his mentees is Leo Mpagi who goes to Croydon College and aims to study law. Leo said:
I want to be a lawyer and Jeff really helps me with my essay modules. If I have a question I'll ask his opinion, and he really does add value. Jeff is very friendly and we get along so well; he's a bit like a dad figure and always checks that I'm OK and how I'm doing in college.
One of the most popular staples of the programme is the MOD fictional crisis workshop where students watch news footage and role play the Prime Minister and other ministers and try to solve the fast-moving overseas crisis. The teams then deliver their findings in a 'ministerial' press conference.
Haider Tanveer, a student at Sir George Monoux College in Walthamstow, said:
Our 'crisis' workshop allowed us to develop new skills. I played the Prime Minister and found out that I had great leadership skills which really gave me confidence.
Overall the programme demonstrates, as a large employer with a wide skills base, the MOD's commitment to corporate social responsibility in many inner city communities and helping to develop the skills of the next generation.
Tutor Neil Barratt from Hammersmith College said:
The programme's success varies depending on the students, but the ones who actually take advantage, and most of them have done that, have really benefited from the support and contact. Last year, two of our students talked about the scheme at interviews and it really gave them an opportunity to shine.
Published 21 June 2012