MOD appoints new Chief Scientific Adviser
The MOD has announced today that Professor Vernon Gibson will be appointed as its new Chief Scientific Adviser.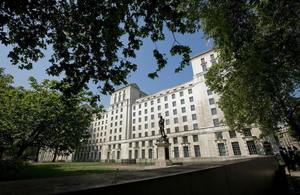 As Chief Scientific Adviser, Professor Gibson will oversee the MOD's science and technology programme.
Professor Gibson replaces the outgoing Chief Scientific Adviser Professor Sir Mark Welland, who is returning to Cambridge University to take up an academic post.
Professor Gibson will join the Department on 2 July 2012 following a distinguished career as an academic researcher and a period in the commercial sector as one of BP's chief scientists. He said:
I am tremendously honoured and privileged to be joining the Ministry of Defence as its Chief Scientific Adviser. I'm looking forward to addressing the science and technology challenges that will help shape the capability of our Armed Forces in the 21st century.
Professor Welland said:
The post of Chief Scientific Adviser is extraordinarily attractive and extremely influential, both within the Department and beyond. The post has existed since the 1960s, so there is a long track record of scientific development within the Ministry of Defence.

The science and technology community across Defence has continued to support the front line and addressed current and future technological challenges. I am sure that this support will continue at pace under Professor Gibson.
Professor Sir John Beddington, Government Chief Scientific Adviser, described Professor Gibson's appointment as 'excellent news for the Government and for the UK'.
Professor Beddington added:
As a former chief scientist at BP, [Professor Gibson's] distinguished academic career alongside extensive industry experience will be invaluable to the Ministry of Defence itself, as well as further strengthening the network of Chief Scientific Advisers across government.

Expert scientific advice is critical to good policy-making and I am delighted to welcome someone with Vernon's expertise to the fold. I look forward to working with him.
Published 31 May 2012