MOD announces investment in nuclear facilities
The MOD is to sustain its commitment to the nuclear deterrent by continuing to invest £1bn a year in facilities at the Atomic Weapons Establishment (AWE).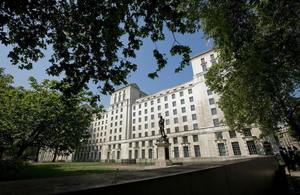 The AWE is central to the development and maintenance of the UK's nuclear capability, Trident. Scientists at the AWE's Berkshire sites are involved from the initial concept and design of the warheads, through manufacture and support to their decommissioning and disposal.
The MOD has now reached an agreement with AWE Management Limited (AWEML) - the joint venture contracted to manage and operate their sites in 2000 - for a further priced period of work under its existing 25-year contract.
This agreement, which will see the MOD invest £1bn a year over the next five years, provides important further investment in skills and facilities at the company's sites in Aldermaston and Burghfield in Berkshire, where more than 4,500 staff are based.
Around 40 per cent of this money will be invested in essential capital projects, including production and research facilities. The remainder will be spent on operating and maintaining the AWE.
Defence Equipment, Support and Technology Minister, Peter Luff, said yesterday:
The Atomic Weapons Establishment is a centre of scientific and technological excellence, with some of the most advanced research, design and production facilities in the world. This investment announced today will help maintain 4,500 jobs and a key capability, which is essential for our national security.
The investment will enable AWE to perform its vital work in support of the UK's nuclear deterrent until March 2018, when another priced period of work will be agreed.
The agreement does not relate to any replacement warhead programme. The December 2006 White Paper makes it clear that decisions on whether to refurbish or replace the existing warhead are likely to be necessary in the next Parliament.
Formed in 1998, AWEML is a joint venture between Jacobs Engineering Group, Lockheed Martin and Serco to manage AWE plc on behalf of the MOD.
Published 15 May 2012