MOD announces first community projects to receive Covenant funding
More than £423,000 has been given to 13 bids from across the country to help fund local projects that increase understanding of, or support …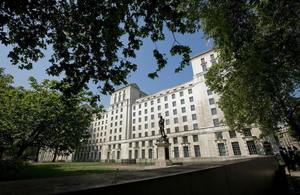 More than £423,000 has been given to 13 bids from across the country to help fund local projects that increase understanding of, or support for, the Armed Forces in the communities in which they live.
Each project benefits both Armed Forces personnel and the civilian population. Encouragingly, these bids are supported by over £300,000 in matched-funding from bid originators.
Since launching the £30m grant scheme in August, 38 applications have been received from groups across the country. Some of the remaining bids are still being considered by the Community Covenant Grant panel but, if successful, over £1m in funding could be issued from this first round alone.
Further panels will be held to consider new bids in December, March 2012 and thereafter quarterly. The £30m funding has been allocated to be spent up to the financial year 2014/15.
The grant scheme will consider applications for funding between £100 and £250,000 to be spent on projects which promote closer ties with, or a greater understanding of, the Armed Forces within local communities. Further details of the grant criteria can be found on the MOD website.
The Minister for Defence Personnel, Welfare and Veterans, Andrew Robathan, announced some of the first projects to receive funding at the joint MOD/Local Government Association Community Covenant Conference today; they include:
plans to replace the Scout and Guide Headquarters in Bedale, North Yorkshire, with a new building that can be used by community groups have been given £159,000 of funding
the Dover Jubilee Tattoo has been awarded £85,000
the British Military Tournament has been awarded £50,000
a play area for the Little Rascals Creche in the Vale of Glamorgan has received £32,888
a garden office for a community link project in Aldershot has received £22,000
proposals to run activity days at five Armed Forces bases in Oxfordshire have received £15,000
£10,000 was given to Royal Wootton Bassett for the town's civic event to commemorate the town's new Royal status
children in Gloucestershire will benefit from £9,880 to fund places on 'Go Ape' children's assault courses, supported by 1st Battalion The Rifles
£7,000 has been given to the Swan Forces project in Wiltshire to develop services to prevent social exclusion among ex-Service personnel and their families
£6,000 has been provided to help Gurkhas in Eastleigh to learn English and integrate with the local community
£1,000 worth of funding has been provided to buy snow-clearing equipment in Mere, Wiltshire, to help clear snow from the homes of the elderly and disabled
£800 will help to fund a scheme in Southampton to promote and support the Armed Forces among the Asian community in the town.
Mr Robathan said:
I am delighted there has been such a good uptake and interest in the funding that is available from the Community Covenant Grant Scheme. These projects will tangibly strengthen the ties between our Armed Forces and our local communities. There is already a deep respect of our Armed Forces on a national and local level, and these projects will help to provide a greater understanding of Service life and enmesh the ties between military personnel and the civilian population.

The relationship between our Armed Forces and the communities they're drawn from is as important now as it's ever been. We are committed to ensuring that our Armed Forces, veterans and their families have the support they need and are treated with the dignity they deserve.
In May this year, the Government published the Armed Forces Covenant which, amongst other things, aims to improve the support available for serving personnel, their families and veterans.
Counties, towns and regions are also being encouraged to set up their own Community Covenant, which encourages local communities to support Service personnel in their area, as well as promote understanding and awareness among the public of issues that affect the Armed Forces. The grant scheme is designed to underpin these aims.
Sir Merrick Cockell, Chairman of the Local Government Association, said:
Local Councils have a long and lasting relationship with our Armed Forces and we are deeply grateful to our servicemen and women for their commitment, service and sacrifice to our country. The Armed Forces are an integral part of who we are as a nation and an inspiration to us all.

It's important we ensure that the Armed Forces community suffers no disadvantage as a result of their service to the country. We must recognise the specific needs which overseas deployment places on servicemen and women, on reservists and on their dependants. In addition there are veterans with special needs, whether these be physical or psychological, that we must care for to the best of our ability.
"The Community Covenant Fund is a very welcome step in helping to encourage new initiatives that build on the already strong foundation of work carried out by local government, charities and voluntary groups to support the Armed Forces and their families."
Application forms for funding can be downloaded from the Covenant page on the MOD website. See Related Links.
Applicants will be asked to complete the business case before submitting the form to the Community Covenant Partnership.
The deadline for the second round of applications is 30 November 2011 and subsequent deadlines will be published on the MOD website.
For the financial year 2011/12 the panel will meet in December 2011 and March 2012. Thereafter each panel will meet quarterly.
Community Covenants have already been established in Oxfordshire, the Vale of Glamorgan, Hampshire, North Yorkshire, Colchester, Hull, Kent and Doncaster.
Published 1 November 2011